China is increasing its defense spending by 10.7 percent this year, repeating last year's double-digit percentage growth.
Last year, China's military budget grew by 11.6 percent, according to the official newspaper China Daily, citing budget documents published Tuesday at the 12th National People's Congress.
The National People's Congress is China's rubber-stamp parliament, which is meeting in one of its infrequent sessions to endorse the once-in-a-decade generational transfer of power within Beijing's leadership.
"Military spending will be used to improve living and working conditions of service people, make the armed forces more mechanized and information-based, and safeguard national security," China Daily reported.
Beijing's increased defense spending — to $114.3 billion — has fueled the communist nation's rapid, massive military buildup, which has alarmed its neighbors amid increasingly tense territorial disputes in waters near China.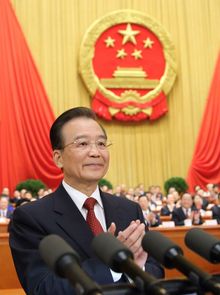 China's military spending will be about the same percentage of its gross domestic product as last year — about 1.3 percent, down from 1.4 percent in 2006, Bloomberg News reported.
But analysts in Asia and the U.S. suspect the military outlays are substantially higher than those publicized.
"The announced figure does not include Chinese spending on defense research and development, arms procurement and defense industrial activities," John McCreary, a veteran defense intelligence analyst, said in his daily commentary "Nightwatch."
The increase in China's military spending comes as Western countries are cutting back amid budget constraints.
For example, the Pentagon, which already has cut its 10-year budget by more than $480 billion, faces another $500 billion reduction over the next decade due to the automatic known as sequestration.
"Western military budgets are typically either stagnating or declining absolutely," Andrew Erickson, a U.S. Naval War College professor, wrote in a blog post for The Wall Street Journal. "The major exception is Japan, whose defense budget will rise in 2013, for the first time in 11 years, at a modest rate of 0.8 percent."
China Daily said its country's defense spending, second only to that of the United States, is about one-sixth of the Pentagon's budget and much lower on both a per-capita basis and as a proportion of GDP.
The People's Liberation Army — a separate but closely linked center of power to the ruling Communist Party — is a vital element of Beijing's leadership amid rising tensions with neighbors and the United States' renewed focus on Asia.
Since taking charge of the party and the country's top military body in November, incoming President Xi Jinping has exhorted the armed forces to boost their war-fighting abilities and loyalty to the party.
He also reportedly has taken charge of a secretive civilian-military group responsible for strategy in maritime disputes, particularly with Japan, and made a series of high-profile visits to military units.