Authorities arrested three more suspects in the Boston Marathon bombing case on charges that they removed suspect Dzhokhar Tsarnaev's backpack and laptop from his dorm room three days after the April 15 attack in a bid to frustrate the investigation.
Azamat Tazhayakov and Dias Kadyrbayev of Kazakhstan were charged with conspiring to obstruct justice. A third man, Robel Phillipos, of Cambridge, Mass., was charged with knowingly making false statements to federal investigators during a terrorism investigation.
A badly wounded Tsarnaev was taken into custody by police and charged with using a weapon of mass destruction days after the Patriots' Day attacks that killed three people and wounded more than 260 others. All four men began attending the University of Massachusetts at Dartmouth at the same time in 2011, and all are 19 years old.
---
SEE ALSO: IGs probe government's handling of Boston intel info
---
Attorneys for Mr. Tazhayakov and Mr. Kadyrbayev strongly rejected the charges.
The announcement of the charges Wednesday was the first official sign that investigators think at least part of the deadly Boston drama involved more than the two suspects identified shortly after the attacks. Dzhokhar Tsarnaev's elder brother, Tamerlan, died April 19 after a shootout with police in Watertown, Mass.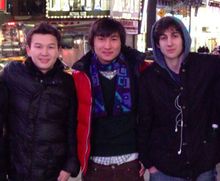 There were no indications from the charging documents that the three men charged Wednesday had anything to do with planning or carrying out the bombing. But in a footnote in the court papers outlining the charges, the FBI said that about a month before the attack, Tsarnaev told two of them that he knew how to make a bomb.
On April 18, Mr. Phillipos told Mr. Kadyrbayev to put on the news when he got home because one of the suspects in the bombing looked familiar, according to an affidavit that accompanied the criminal complaint, filed Wednesday in U.S. District Court for the District of Massachusetts. After turning on the television, Mr. Kadyrbayev texted Tsarnaev and told him that he looked like one of the bombing suspects, to which Tsarnaev replied with texts that included "lol" and other messages that Mr. Kadyrbayev interpreted as jokes, such as "you better not text me" and "come to my room and take whatever you want."
Shortly thereafter, Mr. Tazhayakov, Mr. Kadyrbayev and Mr. Phillipos met at the university campus and went to Dzhokhar Tsarnaev's dorm room, the complaint says. After being let in by Tsarnaev's roommate, they noticed a backpack containing fireworks, which had been opened and emptied of powder.
"Kadyrbayev knew when he saw the empty fireworks that Tsarnaev was involved in the Marathon bombing," FBI Special Agent Scott P. Cieplik wrote in the affidavit. "[He] decided to remove the backpack from the room in order to help his friend Tsarnaev avoid trouble. He decided to take Tsarnaev's laptop as well because he did not want Tsarnaev's roommate to think he was stealing or behaving suspiciously by just taking the backpack."
After the three returned to the apartment of Mr. Kadyrbayev and Mr. Tazhayakov, they "collectively" decided to throw the backpack and fireworks into the trash because they didn't want their friend to get into trouble, the affidavit says.
In his initial interview with federal agents, Mr. Phillipos concealed the fact that the three had gone to Tsarnaev's apartment on April 18, according to the complaint. He subsequently changed his story, saying later that they went to the door of Tsarnaev's room but did not take anything, and then denied going in at all. In the fourth interview, conducted Friday, he confessed that he lied to the agents during the previous interviews, according to the affidavit.
On Friday, law enforcement agents recovered the backpack from a landfill in New Bedford, Mass., where they believed it was dumped by the service that removes garbage from the apartment complex. The agents recovered fireworks, Vaseline and a homework assignment sheet from a class in which Tsarnaev was enrolled.
Court dates
Mr. Kadyrbayev and Mr. Tazhayakov appeared at a preliminary hearing in federal court in Boston on Wednesday afternoon. Each faces a maximum of five years in prison and a $250,000 fine. They agreed to voluntary detention, and another hearing is scheduled for May 14.
The two were previously detained for more than a week on charges that they overstayed their student visas. A federal law enforcement official told The Associated Press on the condition of anonymity that Mr. Tazhayakov was let back into the U.S. from Kazakhstan in January despite his student visa termination because the university had dismissed him on academic grounds.