The Obama administration put on a full-court press Sunday to defend the deal the U.S. and key allies struck to try to halt Iran's burgeoning nuclear program — but the White House faces a tough sell with members of Congress who criticized the terms and said they'll still press for even tighter sanctions on the Islamic republic.
President Obama spoke to Israeli Prime Minister Benjamin Netanyahu, who called the agreement a "historic mistake." The American leader assured Mr. Netanyahu that the deal is just a first step, and that the U.S. remains firmly committed to Israel's interests.
But in Washington, many Republicans and Democrats shared Mr. Netanyahu's view, saying Iran gets far more than it's giving and that the deal only suspends, rather than ends, Iran's nuclear ambitions.
---
SEE ALSO: Pact on Iran could give Obama a rare boost in job performance rating
---
Secretary of State John F. Kerry defended the agreement, reached early Sunday morning in Geneva after months of secret negotiations, saying it gives Iran a six-month window to prove it is serious about freezing its weapons program. He also assured Capitol Hill that if the Islamic republic backslides, the world can reimpose stiff sanctions — and could resort to military action.
"You can't get everything in the first step. You have to go down the process here," Mr. Kerry said on CBS' "Face the Nation." "The fact is that what we've done is lock components of their program in place and actually roll some of them backwards."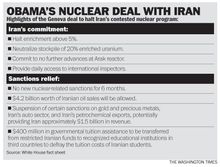 Capitol Hill was less than convinced, with both Republicans and Democrats saying they feared the deal was laden with carrots and lacking in sticks.
---
SEE ALSO: Career diplomat William Burns steered the Iran talks quietly though rounds of negotiations
---
"You have now given them a permission slip to continue enrichment," Rep. Mike Rogers, Michigan Republican, chairman of the House intelligence committee, told CNN's "State of the Union" program.
And Sen. Bob Corker, the ranking Republican on the Senate Foreign Relations Committee, said Mr. Obama's track record doesn't give him confidence that this administration will be able to see through the agreement.
"This administration is long on announcements but very short on follow-through," the Tennessee Republican said on "Fox News Sunday."
Congress is away from Washington for a two-week Thanksgiving vacation, but when it returns, the Senate has the critical defense policy bill pending.
There will be a major push by Republicans and some Democrats to add stricter sanctions on Iran to that legislation as a way of showing displeasure with the deal and trying to stiffen Mr. Obama's spine in the negotiations.
Meanwhile, the two sides in the agreement will go back to the table to work out the next deal. The White House said Sunday afternoon that there is no set timetable for the next round of talks, though a spokesman said the administration is "eager" to get to work.
Sunday's deal was struck between Iran and the five permanent members of the U.N. Security Council and Germany, which combined refer to themselves as the P5 plus 1.
Talks had apparently been going on for months, but kicked into a higher gear after Hassan Rouhani won Iran's presidential elections and took office in August after campaigning on a platform of a willingness to engage with the West.
The White House pointed out that Mr. Obama had campaigned in 2008 on engaging in direct negotiations with adversary nations including Iran, and said this deal was struck in that vein.