Democrat Terry McAuliffe brazenly inserted himself into the sensitive debate over Virginia's heritage, condemning the flying of a Confederate flag and renewing a cultural debate that has ensnared governors of both parties for decades.
Responding to a Virginia group's raising of a 15-by-15-foot banner of the Stars and Bars at a site off Interstate 95 near Richmond over the weekend, Mr. McAuliffe issued a blistering condemnation of the divisive Civil War-era symbol.
"This is not representative of the values that we as a Commonwealth hold dear," he said.
The forceful denunciation is at odds with recent Virginia administrations that typically have attempted to balance the pride among some residents in their Confederate heritage with the solemn acknowledgment of the state's history of slavery.
"While we can't force this group to take down the flag flying over I-95, we can join together as a community to express our displeasure and commitment to fighting for justice and tolerance," said Mr. McAuliffe. He encouraged everyone to "take a moment and fly an American flag to show the world the true spirit of Virginia."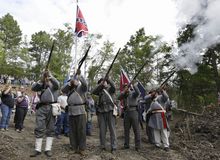 The comments were similar in nature to a statement issued three days earlier by Richmond Mayor Dwight Jones. Mr. Jones, a Democrat, said he's not looking to re-fight old battles and is not interested in symbols that divide Richmond.
"I'm interested in promoting symbols that unite people and would rather rally around the American flag than one that divides so many in our city," he said. "I encourage all Richmonders to do the same."
Mark Rozell, a professor of public policy at George Mason University, said it's politically safe for Mr. McAuliffe to condemn the Confederate flag because the state has changed so much — demographically, culturally and politically — in recent decades.
"It would have been a much different story 25 years ago than it is today," Mr. Rozell said. "But he may help mobilize some of his base that understands the flag is a powerful symbol and, for some of them, something they deeply detest."
The flap started with a group called the Virginia Flaggers, which organized in 2011 and insists it is about reclaiming a Southern symbol that more recently has been associated with racism and intolerance.
The campaign of Republican Attorney General Kenneth T. Cuccinelli II, who is running against Mr. McAuliffe, declined Wednesday to comment on the issue.
A spokesman for Gov. Bob McDonnell said in response to the incident that the Republican "believes in a diverse, modern and welcoming commonwealth" and noted that Virginia recently had been named the best state for business by a national magazine.
"That's the Virginia the world sees," said J. Tucker Martin. "The actions taken by a particular group on private property shouldn't be interpreted as an endorsement by the locality, the state, citizens or businesses."
Confederate history was the source of one of Mr. McDonnell's first stumbles in office in 2010 after he revived the dormant tradition of naming April Confederate History Month. But he took blistering criticism for omitting any mention of slavery in his proclamation. He apologized, amended the statement to condemn slavery as "an evil and inhumane practice," and later said that the omission "was an error of haste and not of heart."
In 2011, he issued a lengthy, inclusive proclamation dubbed Civil War History in Virginia Month. Mr. McDonnell that year was roundly praised for his address marking 150 years since the Civil War — a speech that commemorated Union and Confederate soldiers while condemning slavery as an "evil and inhumane" institution.