The White House is already planning events to use the Dec. 14 anniversary of the Newtown tragedy to push for more gun control. President Obama never lets evidence stand in the way of exploiting tragedies for his political agenda. So he will ignore a leading psychiatrist at the Mayo Clinic who says taking firearms away from mentally ill will not prevent rare mass shootings.
The White House and such groups as New York City Mayor Michael Bloomberg's Mayors Mayors Against Illegal Guns, the Brady Campaign and Organizing for Action have been meeting for a weekly "Gun Violence Table" to coordinate strategy, according to a report in Politico.
The White House Office of Public Engagement, which is part of Valerie Jarrett's fiefdom, is working with these gun-control advocates to plan events to commemorate the horrible shooting at Sandy Hook Elementary School, when 20 young children and six educators were killed.
J. Michael Bostwick, M.D., a Mayo Clinic psychiatrist, wrote on Oct. 18 that mass shootings like Newtown, Aurora and the Navy Yard cannot be prevented by keeping guns away from mentally ill people.
Federal law prohibits only those who have been who has been adjudicated as a mental defective or committed to a mental institution from firearm possession.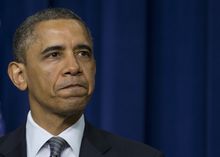 "These people are rarely diagnosed before they commit mass murder so they can still buy a gun," Dr. Bostwick told me in an interview. "Also, they plan the attack for a long period of time and will go to whatever ends needed to eventually get a gun."
The psychiatrist came to these conclusions in his editorial in the "Mayo Clinic Proceedings" to his own surprise. He is a supporter of more gun-control laws and favors physicians asking patients if they own firearms. He told me that people own guns because of a "fantasy" that it "presumably makes you feel you are safer, but the issue does not support that."
However, Dr. Bostwick defends the rights of those who are not dangerous to themselves or others to own firearms. "The mental health system is horrendously underfunded, but the vast majority of mentally ill people are not going to be shooting anyone."
He said killers like Adam Lanza and Alexis Aaron were most likely schizophrenic, but these violent types are "aberrations that get a great deal of attention and play to our fears."
Dr. Bostwick believes the current FBI background check system is not working to screen out mentally ill from gun purchases because many states are not putting mental health records into the National Instant Criminal Background Check System (NICS).
He said that three million people have been committed to mental health hospitals but only 200,000 of those people are reported in NICS. "As a result we cannot feel comfortable that we have a system in place to put away all the mentally ill people in hopes of preventing these crimes," said the doctor.
In April, the Congressional Research Service releases a study of 30 years of public mass shootings that showed there has not been an increase or decrease and account for an average of 18 people killed a year. The nonpartisan office reported that due to the rarity of such events, "potential perpetrators cannot be identified accurately and no systematic means of intervening are known to be effective."
The Mayo Clinic psychiatrist echoed that analysis. "There is not a lot that can be done to prevent mass shootings," he said. "We have no way to prove that someone is going to commit a mass murder. Many people are paranoid and arming themselves— some are mentally ill and some are not."
Dr. Bostwick said that the combination of Second Amendment rights, the broken background check system and inability of psychiatrists to predict who will be a mass killer makes taking away firearms a pointless effort.
Mr. Obama knows this reality, but he shamefully uses each of these tragic shootings to convince the public that more gun control can make them safer. He should instead respect the victims' families and leave politics off his schedule on the sad anniversary of Newtown.