UPDATE:

Park rangers on Friday were turning away people who want to visit the Pisgah Inn on the Blue Ridge Parkway in an effort to enforce the National Park Service's decision to shut down the private establishment during the government shutdown.
Inn owner Bruce O'Connell confirmed to The Washington Times that rangers were parked at the entrance to his inn and denying people entry — a move which Mr. O'Connell said makes it much tougher if the rangers had to respond to an accident or another safety call elsewhere on the parkway.
A Washington Times reader sent photos of the rangers blocking the entrance.
–––––––
The Pisgah Inn, a private hotel that holds a concession on the Blue Ridge Parkway, has become a national sensation as it defies "intimidation" and a National Park Service order to close its doors.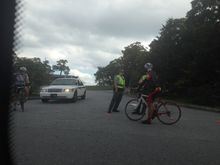 After a tumultuous few days, inn owner Bruce O'Connell told The Washington Times on Friday morning that he had just reopened his doors for customers, despite the park service telling him he had to shut down. He says he's essentially private property, on a road that's still open, and uses no government personnel, so he sees no reason to quit operating.
"I'm questioning their authority to shut me," Mr. O'Connell said.
The National Park Service is involved in several high-profile battles during the shutdown, including having barricaded open-air monuments and memorials in Washington. Veterans busted through barricades at the National World War II Memorial earlier this week, gaining national attention.
But the Park Service closures extend throughout the country, shuttering parks — and many of the private businesses that run concessions in them, such as City Tavern in Philadelphia, and Nauset Knoll Motor Lodge on Cape Cod.
Pisgah Inn, which Mr. O'Connell described as one of the last mom-and-pop places along the Blue Ridge, is just southwest of Asheville, N.C. And while most national parks are closed, the Park Service has deemed the Blue Ridge Parkway a thoroughfare and has left it open.
Mr. O'Connell said since the road is open, and he uses no federal personnel — even his fire and police services would come from town — he isn't drawing on federal resources and sees no reason he should have to shut down.
Michael Litterst, the Park Service's chief spokesman, said they have no choice but to shut down concessions.
"It's a matter that we consider the National Park System to be a single entity, and without an appropriation, the entire system is closed and cannot reopen until funding is restored," he said. "We do not believe it is appropriate or feasible to have some parts of the system open while others are closed to the public."
Mr. O'Connell said he made the decision to keep open early in the week, posting a Facebook message saying he was doing so for the safety and health of those traveling the parkway. But on Thursday, he reversed his decision and said he would close. By Friday morning, he said he had reversed course again and was reopening.
"The level of intimidation and coercion became such that we backed down. Then after sleeping on it, our own convictions took front and center and we decided to reopen," he said.