OAKLAND, CALIF. – Washington Redskins running back Roy Helu Jr. was ready.
With starter Alfred Morris out thanks to a rib injury, Helu's team needed him. Playing in front of friends and family at O.Co Coliseum, just 22 miles from his hometown of Danville, Calif., Helu helped put away the Redskins' first win of the season, a 24-14 victory that a few hours earlier seemed improbable.
Ahead by just three points midway through the fourth quarter, and with a loss all but certain to end any hopes of making the playoffs, the Redskins finally made their own luck. Linebacker Ryan Kerrigan knocked the ball from the hands of Oakland quarterback Matt Flynn and teammate Barry Cofield fell on it.
---
SEE ALSO: FENNO: Redskins' elusive victory doesn't diminish blemishes
---
Washington took over at the 42 and Helu went to work. First came a short pass from quarterback Robert Griffin III that Helu took 28 yards down the sideline. For all his talents, it is not a play that Morris can make. And Helu ended it with a flourish as he tried to leap over a Raiders defender on his way to the end zone.
Moments later he was in the end zone anyway, taking an inside handoff and scooting up the middle 14 yards before bulling his way in to help put the contest out of reach with just 6:59 to play. Helu finished with 13 carries for 41 yards and added two receptions for 43 more.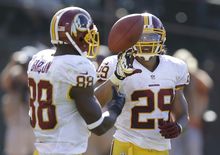 "It means a lot, it's sentimental playing in front of high school buddies, especially my family," Helu said. "But the thing I was reminding myself, because there can be a lot of distractions playing back where you come from, is that it was one audience."
So while there were at least 50 friends and family members watching from the stands, and probably more than that scattered throughout the stadium, that couldn't be Helu's primary focus. This was a business trip for the 24-year-old, a star running back in college at Nebraska.
And his 0-3 team was desperate. Only one NFL team has ever made the playoffs after losing its first four games. The Redskins (1-3) weren't eager to try to become the second. Despite falling behind 14-0, despite having a punt blocked for a touchdown and a litany of other errors in the first quarter, they didn't. With Dallas' loss to San Diego on Sunday, the Redskins are just a game out of first place in the NFC East.
Griffin led an eight-play, 48-yard scoring drive in the third quarter that ended with a Pierre Garcon touchdown reception from five yards out. It gave Washington its first lead of the second half in a game this season.
Rookie cornerback David Amerson contributed, too, with a 45-yard interception return for a touchdown in the second quarter.
But when Morris left the game with sore ribs late in that third-quarter scoring drive, the Redskins turned to Helu out of necessity. He lost two yards on the play before Garcon's touchdown. But he responded on Washington's next drive with a seven-yard run.
Helu later even shook off a fumble after a catch that was called back thanks to an Oakland offsides penalty — though he was also confident that the replay booth would have overturned the call anyway.
"You want guys to come in and do a good job when they're asked to in those situations," Redskins coach Mike Shanahan said. "Roy was very prepared both in the running game and in the passing game. He caught the ball very well and was able to grind out some tough yards there at the end."
Shanahan said that the initial medical report on Morris was simply bruised ribs and no break, but the running back did not return to the game after that third-quarter scoring drive. Following the game Morris told any teammate who asked that he would be fine.
Washington does have a bye next week and its next game is Oct. 12 at Dallas. So maybe Helu won't be called upon the same way next time. Entering the day he had one carry for five yards and five receptions, after all. He is clearly a reserve.