The FBI is on track to accumulate 52 million photos — including non-criminal images — in its facial-recognition database by next year, states a new report from a digital watchdog organization.
The Electronic Frontier Foundation (EFF), a nonprofit organization dedicated to defending civil liberties in the digital world, received the records through a Freedom of Information Act request seeking information about the agency's Next Generation Identification (NGI) — a giant biometric database that could conceivably hold records on one-third of the U.S. population.
The records show that by 2012, the federal database already contained 13.6 million images representing between 7 and 8 million people. By mid-2013, the number of images swelled to 16 million images.
---
SEE ALSO: Prepare for drones that 'perch' on power lines to recharge, never have to land
---
The foundation said the records reveal that the database will be "capable of processing 55,000 direct photo enrollments daily and of conducting tens of thousands of searches every day."
Americans who could get swept up into the database include future applicants who apply for a job that requires fingerprints and a background check — information that is already sent to the FBI. Now, with the NGI database, companies that require a "mug shot" photo would forward those images to the agency as well, EFF reported.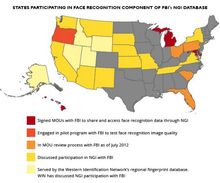 The records show that by 2015, the FBI is projected to accumulate the following through NGI:
- 46 million criminal images
- 4.3 million civil images
- 215,000 images from the Repository for Individuals of Special Concern
- 750,000 images from a "Special Population Cognizant" (SPC) category
- 215,000 images from "New Repositories"
The nonprofit is concerned about the "Special Population Cognizant" and "New Repositories" designations because the agency does not define them. EFF doesn't know "what rules govern these categories, where the data comes from, how the images are gathered, who has access to them, and whose privacy is impacted."
In addition to concerns that Congress has not adequately addressed who will have access to images collected by NGI, EFF believes that "law enforcement at all levels to search non-criminal and criminal face records at the same time," which would mean that an individual could "become a suspect in a criminal case merely because [he] applied for a job that required [him] to submit a photo with [his] background check."
The FBI asserts that false positives would not happen, EFF reported, though the organization remained wary of possible scenarios that federal authorities have not yet adequately addressed.