As the House prepares for several key votes on former Internal Revenue Service employee Lois G. Lerner and potential legal action, analysts say she and her attorney have mishandled their case by picking and choosing when they want to talk, and to whom they are willing to talk.
Ms. Lerner faces a vote in the House Oversight and Government Reform Committee on Thursday that could begin the process of accusing her of contempt of Congress. The Ways and Means Committee announced that it will hold a vote Wednesday on whether to officially accuse Ms. Lerner of breaking the law by targeting tea party groups.
The congressional moves escalate House Republicans' effort to highlight Ms. Lerner's role in the IRS targeting, which has turned into a major legal battle on Capitol Hill.
Lawyers say Ms. Lerner and her legal team may have stumbled on several occasions, including by initially professing her innocence but refusing to talk to Congress last year, then agreeing to provide information to the Justice Department without any promise of immunity, and then refusing yet again to talk to House investigators about the same subject.
Hans A. Von Spakovsky, senior legal fellow at the Heritage Foundation, said courts in Washington have decided that someone can't pick and choose whom they waive their Fifth Amendment rights to, and whom they choose to speak to.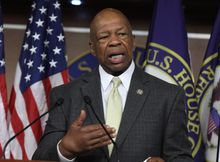 "When Lerner gave a lengthy interview to the government, she waived the Fifth. There's no doubt about it," Mr. Von Spakovsky said. "The law is crystal clear here in the District of Columbia. That means when she showed up March 5, she was obligated to provide the same information."
Ms. Lerner's legal problems could increase this week with the two committee votes. The oversight committee will consider a resolution asking to hold Ms. Lerner in contempt for refusing to testify, while the Ways and Means Committee will debate whether to refer her to the Justice Department for criminal prosecution "for violations of one or more criminal statutes based on evidence the committee has uncovered in the court of the investigation of IRS abuses."
Ms. Lerner, who retired from the IRS in September, ran the agency's division overseeing nonprofits at a time when, according to an internal audit, her division was improperly scrutinizing and delaying conservative groups' applications.
Republicans say the information they have gathered shows Ms. Lerner wanted to target tea party groups in the wake of the Supreme Court's 2010 Citizens United decision that allowed interest groups to spend more freely on issue ads during political campaigns.
Now, Democrats and Republicans are enmeshed in a legal struggle with Ms. Lerner and her attorney, William Taylor III, over her involvement in the IRS scandal and over how they have handled the aftermath.
In a letter last week, Oversight and Government Reform Committee Chairman Darrell E. Issa, California Republican, said he believed Rep. Elijah E. Cummings of Maryland, the ranking Democrat on the committee, was trying to work out a secret deal with Ms. Lerner that would involve immunity from prosecution.
"In discussions with my staff, Mr. Taylor states that his client does not fear prosecution and would not make any incriminating statements if she testified, with or without immunity," Mr. Issa wrote to Mr. Cummings. "Ms. Lerner does not require immunity to testify truthfully about facts that would not incriminate her."
He demanded that Mr. Cummings reveal any secret conversations he had with Ms. Lerner's legal team.
Mr. Cummings said it was "false and ridiculous" to say he was insisting on granting Ms. Lerner immunity and that it was Mr. Issa who raised the prospect of immunity at the first hearing last May.
"The more important question is why Chairman Issa inexplicably rejected an offer from Ms. Lerner's attorney to have her testify with a simple one-week extension — an offer that every single Democratic committee member would have accepted instantly had Chairman Issa bothered to consult with them," Mr. Cummings said. "It appears that Chairman Issa is more interested in generating partisan conflict than in obtaining the facts."