The Western-backed interim government in Kiev struggled to control mobs of pro-Moscow demonstrators in eastern Ukraine on Tuesday, as congressional Republicans pressed the Obama administration to take more robust action to deter a Russian military invasion of the nation.
While Ukrainian authorities succeeded in retaking control of a key government building in one city near the border with Russia, they had less success elsewhere. U.S. officials believe Moscow is paying the protesters to foment unrest.
The White House has moved in recent weeks to beef up U.S. military support for NATO allies bordering Ukraine. But with fears mounting that Russian President Vladimir Putin may be keen to advance on eastern Ukraine, some are calling for the Obama administration to begin directly arming Ukrainian forces.
---
SEE ALSO: Pals no more: McCain, Kerry trade personal shots during heated Senate exchange
---
"The reason we heard from this administration they weren't willing to provide arms is we thought it would create a provocation. Well, [Mr. Putin] doesn't need provocation," Sen. Ron Johnson, Wisconsin Republican, said Tuesday.
Mr. Johnson, who traveled to Ukraine as part of a congressional delegation last month, said he could "sense the disappointment" among pro-Western leaders in Kiev that Washington "wasn't even willing to offer small arms and ammunition to support the courageous people of Ukraine."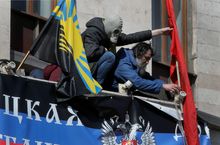 Republicans offered a scathing critique of Mr. Obama's handling of the Ukraine standoff at a Senate Foreign Relations Committee hearing with Secretary of State John F. Kerry, a former chairman of the panel.
---
SEE ALSO: John Kerry: Russia to face tougher new sanctions if meddling continues
---
Sen. John McCain, Arizona Republican, told Mr. Kerry that the administration's "lack of response" may be encouraging Mr. Putin to engineer a repeat of last month's virtual annexation of Ukraine's Crimean Peninsula by quietly aiding loyalists in the Russian-oriented cities of eastern Ukraine and then demanding that restless regions be allowed "autonomy" from Kiev.
"I want to know, and I think the American people should know, and maybe most importantly, the people of Ukraine should know, why won't we give them some defensive weapons when they're facing another invasion — not the first, but another invasion of their country?" Mr. McCain said.
"My hero, Teddy Roosevelt, used to say, 'Talk softly but carry a big stick.' What you're doing is talking strongly and carrying a very small stick — in fact, a twig," Mr. McCain told Mr. Kerry.
The secretary of state said the Obama administration is all too aware that Russia may be on the verge of invasion and reiterated a White House claim made Monday that Moscow is paying pro-Russian demonstrators in eastern Ukraine.
"What we see from Russia is an illegal and illegitimate effort to destabilize a sovereign state and create a contrived crisis with paid operatives across an international boundary," he said.
Mr. Kerry, bristling at times at the Republican onslaught, argued that it was unrealistic to think direct U.S. military assistance to Ukraine had any chance of quickly reversing Mr. Putin's calculations.
"If we decided today to give them a whole bunch of assistance, you've got to train them, you've got to do things," said Mr. Kerry.
He said the White House believes the most effective way to counter Russian meddling in Ukraine is through economic sanctions.
The White House and the European Union have imposed visa restrictions and sanctions on more than a dozen Russian political and business leaders in response to last month's developments in Crimea.