The Obama administration insisted Thursday that the U.S. will avoid mission creep in freshly war-torn Iraq, even as its Pentagon chief warned that the Islamic State poses a terrorist threat to Americans "beyond anything that we've seen."
"Get ready," Defense Secretary Chuck Hagel declared in an ominous warning, even as the White House tried to tamp down speculation that stepped-up airstrikes might lead to a greater ground troop intervention.
Some lawmakers are dubious of the Obama administration's balancing act, arguing that the stated mission — to protect American personnel in Iraq, provide humanitarian assistance to displaced civilians and aid Iraqi security forces in their fight against Islamist militants — already has evolved from what it was just two weeks ago, when President Obama announced that the U.S. was resuming combat operations in Iraq.
---
SEE ALSO: Former CIA terror fighter warns that Americans 'will die' because of open border
---
• Sign the petition to declare you oppose a government takeover of the Internet
"The mission already crept a bit," said Rep. Adam B. Schiff, California Democrat and a member of the House Permanent Select Committee on Intelligence. "The administration would be wise to not get sucked in. That's going to be very hard."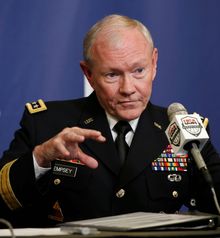 In a press briefing at the Pentagon on Thursday, Mr. Hagel dismissed questions about mission creep and pointed to the larger danger that the "barbaric" Islamic State poses.
---
SEE ALSO: Bergdahl release violated law, used improper monies
---
The group, which is also known by the acronyms ISIL or ISIS, shows a sophistication of terrorism that presents a whole new dynamic and paradigm of threats to the United States, Mr. Hagel said.
"They're beyond any terrorist group," he said. "They marry ideology, sophistication of strategic and tactical military prowess. They are tremendously well-funded. Oh, this is beyond anything that we've seen, so we must prepare for everything, and the only way you do that is you take a cold, steely hard look at it and get ready."
Mr. Hagel and Joint Chiefs of Staff Chairman Gen. Martin E. Dempsey addressed reporters' questions in the wake of more airstrikes and mounting international determination to defeat the group.
Over the span of several days, the U.S. has upped its air campaign in Iraq as it has struggled to wrest the Mosul Dam from the clutches of the Islamic State.
By Tuesday, the number of strikes carried out by U.S. aircraft had tripled from 33 to 90, according to a statement by U.S. Central Command.
Of those 90 airstrikes, 57 were used to support Iraqi and Kurdish fighters battling the Islamic State for control of the dam and surrounding area, CENTCOM said.
Earlier this week, Mr. Obama touted the fact that Iraqi and Kurdish forces, with the help of U.S. air power, reclaimed control of the dam.
But Republicans and Democrats on Capitol Hill have pushed the administration to do more, including launching airstrikes against militant forces in Syria.
Syrian President Bashar Assad's forces Thursday killed dozens of Islamic State members in heavy fighting in the northern province of Raqqa, where the Islamic State holds considerable territory. Two years ago, it took captive American photojournalist James Foley while he was covering the Syrian civil war.