President Obama authorized airstrikes against Islamist terrorists in Iraq and approved a humanitarian mission to deliver food and other supplies to tens of thousands of Iraqis trapped on mountaintops, moves that represent the most significant re-engagement in Iraq since formal combat operations ended three years ago.
Speaking at the White House on Thursday night, the president said the U.S. cannot sit idly by as innocent Iraqis are slaughtered by the Islamic State, also known as the Islamic State of Iraq and the Levant.
He also said he has authorized specific military strikes against Islamic State militants should they advance toward U.S. diplomatic facilities in the city of Irbil or if the Iraqi government requests them in support of its efforts to break the mountain siege.
---
PHOTOS: Top 10 U.S. fighter jets
---
"I've said before the United States cannot and should not intervene every time there's a crisis in the world, but let me clear about why we must act and act now," Mr. Obama said.
"When we have a situation like we do on that mountain, with innocent people facing violence on a horrific scale, and we have a mandate to help, in this case a request from the Iraqi government, and when we have the unique capabilities to help avert a massacre, I believe the United States of America cannot turn a blind eye. We can act. We can act carefully and responsibly to prevent a potential act of genocide," he said.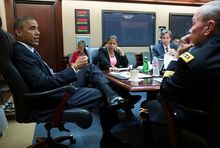 As of Thursday evening, the first round of humanitarian airdrops had been completed, Pentagon officials said. About 5,300 gallons of drinking water and 8,000 pre-packaged meals had been dropped by three cargo aircraft deploying from multiple airbases along with two escort fighters, according to the Defense Department.
---
SEE ALSO: Democrats applaud Obama's airstrikes in Iraq
---
The Islamic State, an al Qaeda offshoot group, plunged Iraq into chaos in recent months as it overwhelmed Iraqi security forces in some areas and gained control of key areas, including the Mosul Dam, the largest dam in the nation and one that is critical to Baghdad water supplies.
Islamic State fighters also have trapped more than 40,000 Yazidis, a Kurdish ethnic religious sect, in the Sinjar Mountain area in northern Iraq without access to food or water and threatened to kill them.
The Islamist militants have begun slaughtering Iraqi Christians after telling them they must convert or die. They also have launched a string of car bomb attacks in Baghdad in recent days, killing more than 90 people.
The U.N. Security Council on Thursday condemned those attacks, and Mr. Obama on Thursday night declared that "America is coming to help" put an end to the Islamic State's reign of terror.
But the president also tried to reassure Americans that, despite looming military action from the air, the U.S. will not commit ground troops to Iraq.
"I ran for this office in part to end the war in Iraq and welcome our troops home. And that's what we've done," he said. "Even as we support Iraqis as they take the fight to these terrorists, American combat troops will not be returning to fight in Iraq."
The president recently sent troops to Baghdad to protect the U.S. Embassy. He also dispatched 300 military advisers to assist Iraq's armed forces in their fight against the Islamic State.
A senior Pentagon official told reporters Thursday night that he hoped the president's authorization would deter ISIL from committing the sort of acts that would force the U.S. hand.
"Based on the president's guidance and the authorities provided to the military, airstrikes remain a clear possibility," the official said after Mr. Obama's speech. "But [the Islamic State] gets a vote and should carefully consider the actions they take."