Second of two parts. Read first part here.
A former Army historian who chronicled the infamous Battle of Wanat in Afghanistan, where nine U.S. soldiers died after their M4 carbines jammed, tells The Washington Times that his official account was altered by higher-ups to absolve the weapons and senior officers.
M4 critics have long pointed to the Afghanistan battle on July 13, 2008, as evidence that the rifle's design was flawed. They cite reports from soldiers on the ground that their guns overheated and jammed that day.
---
PHOTOS: Cover-up? Army historian says report on deadly Afghan battle was altered to absolve faulty gun
---
But the gun's supporters have pointed to a single sentence in the official Wanat history issued in 2010 by the Army's Combat Studies Institute at Fort Leavenworth, Kan. It blamed the gun's sustained rapid fire that day, not its design, for the malfunctions.
"This, not weapons maintenance deficiencies or inherent weaknesses in weapons design, was the reason a number of weapons jammed during the battle," the sentence read.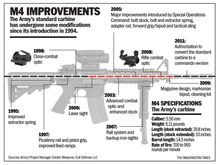 Higher-ups inside Army command edited that sentence into the history, the report's author says.
"That was not my conclusion," said Douglas R. Cubbison, a former Army artillery officer and principal Wanat history author. "That was the Combat Studies Institute management that was driven from the chief of staff's office to modify findings of that report to basically CYA [cover your ass] for the Army. You know how that works.
"Other soldiers have informally told me of similar problems they had with the M4 at high rates of fire," said Mr. Cubbison, who is now curator of the Wyoming Veterans Memorial Museum.
Higher-ups made other changes, such as removing much of the historian's criticism of senior officers for not better preparing the outpost for an attack.
"The Army tried to manipulate that study after it was basically done. They significantly changed things to a classic CYA," Mr. Cubbison said.
Lt. Col. James Lowe, a spokesman at Fort Leavenworth, said the Army sticks by the changes it has made.
"The way that our studies are done, it's a staff process," he said. "And they disagreed with some of his conclusions about the weapons, and they firmly believe that the analysis supports what's actually in the report."
M4 critics say exonerating the M4 at Wanat follows a pattern: The Army vigorously defends its front-line rifle in public; behind the scenes, it works to correct its flaws.
The Times reported Thursday that documents it obtained show the Pentagon was warned as early as 2001 and 2002 that the M4A1 carbine — the commando version — had flaws that made it more likely to jam in desert conditions.
The editing to absolve the M4 was important because Sen. Tom Coburn, Oklahoma Republican, was waging a campaign to convince the Army that the gun was faulty and needed replacing.