Chesapeake, Va. — A mighty belch — loud, long and clear — erupted from the crowd, prompting swivels of heads and muffled laughs, but the guilty party remained anonymous.
It happened just as Pastor Rusty Rawls asked his congregation to turn to the Book of Genesis in their Bibles and the only other sound in the dim assembly hall was the flutter of pages.
Without missing a beat, Mr. Rawls looked to the crowd at Seven Cities Freedom Biker Church and began his hourlong sermon on making no excuses when it comes to following God.
---
PHOTOS: HOG HEAVEN: Virginia church catering to bikers welcomes the rough and the ragged
---
"Our members feel like they have been judged and looked down upon," the church leader said after the service. "They know they can come here and we will love them right where they are at. Sometimes, where they're at is the sin they are in."
Burping is by no means a sin, but the relaxed, no-frills attitude at the biker church is a major draw for its leather- and denim-clad members, many of whom bear tattoos, scars, scruffy hair and serious baggage.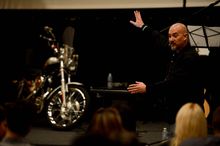 "We get a lot of drug addicts, alcoholics," said Mr. Rawls, 48. "But the bikers here are some of the most giving people you'd ever come across."
Seven Cities Freedom Biker Church is one of 10 such churches along the East Coast. There's also a Canadian biker church in Surrey, British Columbia.
The first church was founded in 2006 in Raleigh, N.C., by a man named Mike Beasley.
Mr. Rawls said he and his wife, Chris, 45, were introduced to Mr. Beasley by a mutual friend who was asked to be a part of the startup team.
Mr. Rawls already had started a motorcycle ministry at his current church and worked with the Christian Motorcyclist Association, a national evangelistic outreach program.
The two pastors hit it off and opened the first Freedom Biker Church on July 9, 2006. Mr. Rawls said more than 100 people attended the service. Now, Sunday attendance averages 350 to 400.
Six years after the church opened, the Rawlses and their two children moved to Virginia Beach to start another one.
"Our son, Max, was attending Bible college in Virginia Beach, and we would travel up there at least two to three times a month to visit," Mr. Rawls said. "After doing this for about a year and a half, it finally dawned on us that God was calling us to plant a biker church in Virginia Beach. Each time we visited our son, we always noticed all the motorcycles in the area but never thought of planting a church there."
Sitting at the end of a large parking lot, the Chesapeake church bears reminders of its previous life as a country bar and a hip-hop club. The fellowship and dining area at the front feature high- and low-top tables as well as a bar, where several coffee makers instead of liquor bottles are displayed. Sunday services are held in the former dance hall — a two-story cavern with mirrored walls, a disc jockey booth, low lights and a booming sound system.
Long rows of chairs, separated by an aisle painted to look like a street lane, face a low stage where a motorcycle is parked in the corner and a silver "freedom bell" dangles from a post.