President Obama says the NSA's snooping programs need changes — but he tossed the biggest decisions to Congress, where the tide appears to be running against letting the government continue to scoop and hold Americans' phone data.
However, the intelligence community does have some important defenders, both on the key oversight committees and within the leadership ranks of Senate Democrats and House Republicans. Their support of continued snooping — and the lack of an easy alternative to the government holding on to Americans' data — could leave the program intact.
"We have carefully reviewed this program and have found it to be legal and effective," Sen. Dianne Feinstein, California Democrat, and Rep. Mike Rogers, Michigan Republican, said in a joint statement after Mr. Obama's speech. They chair the intelligence committees in their respective chambers.
---
SEE ALSO: Obama calls for immediate checks, long-term changes to NSA snooping
---
Mr. Obama on Friday announced a few immediate changes to the National Security Agency's program that grabs the phone numbers, times and durations of every phone call made in the U.S. and stores that data for five years.
Under the changes, analysts must submit to court reviews before they are permitted to go through the data, and they will be more limited in how far they can snoop beyond the initial phone number they suspect belongs to someone involved in terrorism.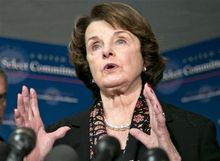 But the president said more changes are needed to re-establish Americans' faith in the system.
---
SEE ALSO: Wikileaks' Assange: Obama's snooping speech 'embarrassing'
---
All sides in the debate are now on the clock.
Mr. Obama gave the Justice Department two months to come back with a proposal for how to shift the phone records so they are no longer held by the government.
Congress, facing November elections, will have to act by late summer or leave the issue for the Congress convening in 2015. But that puts them against another deadline: The section of the Patriot Act that the NSA uses to grab the phone data expires next year.
Opponents of the NSA program said that's their trump.
"Next year, these authorities expire. And I believe without real reform — not a veneer of reform, but the reform that the president's panel proposed and that in many ways, the president proposed on Friday — these laws will expire," Sen. Mark Udall, Colorado Democrat, said Sunday on CBS' "Face the Nation."
The sides are also dividing up.
Mrs. Feinstein has pushed through her committee a bill that would officially approve NSA snooping and let the program continue with some additional reporting requirements.
On the other side is an emerging coalition of liberals and conservatives, who are backing a bill that would go the other way and completely outlaw bulk collection of records. That legislation is sponsored by Sen. Patrick J. Leahy, Vermont Democrat and chairman of the Senate Judiciary Committee, and Rep. F. James Sensenbrenner Jr., the Wisconsin Republican who was chief author of the Patriot Act.
"There's a concern that we have gone too much into Americans' privacy," Mr. Leahy said on "Fox News Sunday." "There's still going to be legislation on this."