The legal fight between a California hospital and the family of a teen who has been declared brain dead has reignited a debate about life, death and when medical technologies should be ended for a patient.
Like the case of Terri Schiavo, the nation has been captivated by the right-to-life battle of Jahi McMath, 13, who went to Children's Hospital Oakland on Dec. 9 for tonsil surgery. After Jahi experienced major postoperative complications, she was declared brain dead. The hospital and her family have since been fighting over the next steps for her.
But the question in Jahi's case is different from Schiavo's, said E. Christian Brugger, senior fellow of ethics at the Culture of Life Foundation.
---
SEE ALSO: Calif. girl declared brain dead moved from hospital
---
"With Terri, everyone on both sides of the issue knew she was alive and highly disabled," he said. Her quality of life — as a woman in a persistent vegetative state on life-support technology — was the issue.
The question with Jahi is over life itself. "Is there no Jahi?" Mr. Brugger said. "That is going to be the substance of the debate."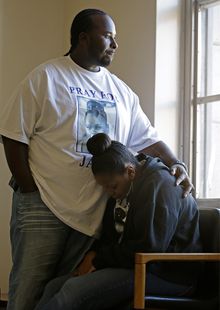 Other issues are how well modern America determines life and death — and how well news outlets convey nuanced medical and legal information.
---
PHOTOS: Meaning of life and death debated in case of Jahi McMath
---
The views of minority families about health care is also a factor: A poll has shown that minorities — especially blacks — strongly believe that no effort should be spared to keep someone alive.
In a court agreement Friday between the Oakland hospital and Jahi's family, a judge agreed that Jahi could be moved out of the hospital, on a ventilator, with the understanding that Jahi's mother, Latasha Nailah Winkfield, would be responsible for the child.
On Monday, the child was moved from the hospital to an undisclosed location, The Associated Press reported.
According to the agreement announced in Alameda County Superior Court, the Oakland hospital, which has maintained that Jahi died Dec. 12 because hospital and independent doctors found she had zero response in her brain and brainstem, would not be required to place feeding or other tubes in her.
Few details were made public after a separate meeting before a magistrate judge Friday, but Christopher Dolan, an attorney for the family, said the meeting was productive and established what the family needed to do.
"Today has been about clarity. It's been about knowing exactly what path we have to walk down, what doors are now open, and what obstacles have been removed," Mr. Dolan told reporters in California. "We know how to get from here to where we want to be, which is Jahi in another place where she is receiving care."
A death certificate listing Jahi's name and the date of Dec. 12 was prepared in the Alameda County coroner's office, but it doesn't list a cause of death, pending an autopsy, the San Jose Mercury News said Friday.
Dead or alive?
Jahi's case has been compared to that of Schiavo, who was 26 in 1990 when she suffered a heart attack and brain damage, and went on life support. For years, Schiavo's husband and parents battled over whether to disconnect her from her feeding tube. In the end, her husband prevailed in court and Schiavo died two weeks later, in March 2005.