The train pulled away from the platform in Ostrava and Ceri Walker sobbed. She cried as it sped through the Czech Republic on the way to Vienna. She cried on an endless flight home to Australia.
Walker's 13-year-old son, Nathan, was left behind. He would spend more than five years in that country, interrupted only by visits home in the summer. There he celebrated birthdays. He caught chicken pox. He made friends for life.
It was all in pursuit of a hockey career. In his native Australia, that dream was folly. The rinks were too few and the ice time limited. Walker had to leave the country. He pleaded with his parents, Ceri and Wayne, to let him go. They couldn't anticipate what sacrifices that would mean.
"I kept saying 'What am I doing? What am I doing?'" Ceri Walker said. "Looking back, I don't think we knew what a big task it was and how much Nathan would be giving up. And how much we gave up, too."
Following brother's example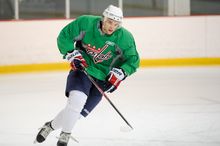 On June 28, the Capitals chose Walker, now 20, with the 89th selection in the NHL draft. He is not an elite prospect, small by NHL standards at 5-foot-9 and 192 pounds. But the forward is a swift skater, strong on the puck with good skill and has been playing against grown men for years.
He has a legitimate opportunity to become the first Australian to play in the NHL. And it was only possible because he took a chance.
"At first it was, 'What the hell am I doing here?'" Walker said. "I didn't have any family. I don't speak the language. I don't know anyone. But at the end of the day, it was what I really wanted to do."
Walker became the first Australian drafted by an NHL team. The odds against that when he first took to the ice at age 6 were astronomical. His older brother Ryan was exposed to the sport when the family still lived in Cardiff, Wales. They emigrated from the United Kingdom when Ryan was 7 and Nathan was 2.
Ryan Walker took up hockey in Australia and later played it during a study abroad year in Faribault, Minnesota, during high school. Like any younger brother, Nathan wanted to tag along in everything. That was fine. But, despite a six-year age gap with Ryan and his friends, there was no quarter given. The younger brother would have to keep up. He always did.
Nathan was a natural on the ice. He played for the Blacktown Flyers, a club in a suburb of Sydney. But rink space was so limited that kids skated crosswise so two teams could use the same sheet. Games at all levels in Australia were played in 15-minute periods, not 20. Developing the skills needed to advance was a hopeless case even after Walker began playing for three different age groups. It wasn't enough.
"I've got to get out of here," Walker told his mother.
'Nothing beautiful in there'
But he needed help. Ivan Manco, a family friend and Walker's coach at the state level in Australia, had contacts in his native Slovakia and the Czech Republic. He arranged tryouts with clubs in those countries in October of 2007.
The plan was to get a proper evaluation of Walker's talent and send him over the following season in 2008. But his speed immediately impressed the coaches at HK Vitkovice Steel, a club based in Ostrava, the third-largest city in the Czech Republic.