Grants of asylum are up 10-fold during President Barack Obama's time in office, even before the latest flood of illegal immigrants. Fraud is involved in 70 percent of the instances, according to Rep. Bob Goodlatte, Virginia Republican and chairman of the House Committee of Judiciary.
In his typical ignore-the-law fashion, Obama is expanding the grounds for asylum beyond the statutory definition of a person who has fled his country "because of persecution or a well-founded fear of persecution on account of race, religion, nationality, membership in a particular social group, or political opinion."
Obama's new definition is that if he deems your country unsafe, you can come to America and stay in America. And you can collect valuable benefits that help transform the "land of the free" into the Land of the Freebies.
Under Obama's standards, all 30 million residents of Honduras, Guatemala and El Salvador could be admitted to America because all are equally unsafe in their homeland, not just the young people who have fled recently. Even if we limited asylum to the youngest, more than half their populations are age 24 and younger.
Nevertheless, asylum has now been granted, it's reported, to two-thirds of applicants among the 57,000 (or more) "children" who have come across our southern border since October. Other applications are pending.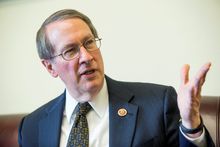 As Goodlatte said in a statement: "Where an asylum officer does not approve the application, it is then referred to an immigration judge where the applicant can try again. If that fails, they can continue to appeal their case. Once individuals are granted asylum, they have access to all major federal welfare programs."
Final asylum decisions are up to immigration judges, but judges have a backlog of about 400,000 deportation cases so they won't make those decisions for years.
Meantime, the applicants can be set free without bond to stay in the U.S. and receive these benefits (according to the U.S. Citizenship and Immigration Services website):
Immediate freedom to work
Ability to obtain an unrestricted Social Security card
Job search assistance
Career counseling
Occupational skills training
Derivative asylum status for spouse or children
And possible help from the Office of Refugee Resettlement (ORR) that includes:
Financial assistance
Medical assistance
Employment preparation and job placement
English language training
In an interview on "The Ernest Istook Radio Show," Goodlatte said the increase in asylum is bigger than how Obama has abused immigration laws by using prosecutorial discretion and by releasing convicted aliens.
"The biggest problem that we're seeing is a dramatic increase in the people who have been taught … to request political asylum," Goodlatte said. "An internal Department of Homeland Security report shows that at least 70 percent of asylum cases show provable or possible fraud."
Obama started the overall crisis by not enforcing immigration laws and could reverse the problem by cracking down on fraudulent asylum claims, Goodlatte said.
Goodlatte described a process whereby bureaucrats, rather than judges, are making the decisions on asylum applications: "Here's what happens: They're put through basically a two-step process. The first step is to go before a processor, and not the immigration judge, who makes a preliminary finding. In 90 percent-plus of those cases, they're saying they do have a basis for those asylum claim."