The most horrifying experience a citizen can have is to stare down the barrel of a gun held by a violent criminal.
But under President Obama, federal prosecutors in two of the nation's most crime-ridden cities have taken vastly different paths to address the threat.
In the Southern District of Alabama, U.S. Attorney Kenyen Brown has been working with agents at the Department of Alcohol, Tobacco, Firearms and Explosives and local law enforcement officials to relentlessly lock up known bad guys for a minimum of five years on federal arms charges.
---
SEE ALSO: Obama talks tough about gun control, but prosecutions plummet on his watch
---
The Southern District — which includes Mobile, Alabama, a city with one of the highest crime rates per capita in the country — has pursued the most federal weapons prosecutions this year, according to prosecution data analyzed by Syracuse University's Transactional Records Access Clearinghouse.
Under Mr. Brown's leadership, the jurisdiction is prosecuting 24 percent more cases than last year and has increased prosecutions 69 percent in the last five years. In 2008, the year before the effort started, there were 42 homicides in his district. Last year, there were 27, Mr. Brown said.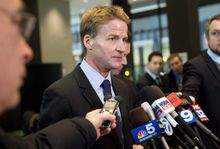 Mr. Brown is bucking a nationwide trend, which has seen a decrease in the number of federally prosecuted gun charges, the data show.
---
PHOTOS: Top 10 handguns in the U.S.
---
"We told local law enforcement, 'Look, if you have someone who has been a thorn in your side, they tend to go in and out of the revolving door of prison. You can't get anything to stick to them, and they carry a gun. We want to prosecute them,'" Mr. Brown told The Washington Times.
His aim is to clean up the streets of Mobile by deterring criminals from carrying weapons so that if a street fight escalates, participants are using their fists, not pulling out Glocks.
Mr. Brown's counterpart in the gang-weary city of Chicago has a vastly different philosophy. U.S. Attorney Zachary Fardon declared in his first interview after taking over his job that "we are not going to arrest our way out of the gang problem in Chicago," adding, "I do not believe federal law enforcement is the panacea" to gun violence.
Mr. Fardon's declaration caught the attention of many in Chicago, which reported the most murders of any U.S. city in 2012 and is on track to retain that title in 2013, according to the most recent FBI data. Although statistics from the Chicago Police Department show the murder rate has subsided this year, over the Fourth of July weekend, 82 people were shot within an 84-hour window in a surge of violence, according to the Chicago Tribune.
Mr. Fardon's philosophy appears to be borne out in the statistics compiled by his federal prosecution team in Chicago.
Chicago ranked last in federal gun-law enforcement in terms of weapons crimes per capita, out of the 90 U.S. court districts monitored by Syracuse University's Transactional Records Access Clearinghouse in its most recent study.
This year, the city is on track to prosecute about 50 weapons charges, the lowest number since 2007. Compare that to Mobile, which is expected to prosecute 105 gun cases, or New York City, which is projected to prosecute 125 this year, and the number looks demonstratively worse.
Mr. Fardon declined to be interviewed by The Washington Times.
But Randy Samborn, an assistant U.S. attorney and spokesperson for the Northern District of Illinois, said part of the reason why Chicago's prosecution numbers are low is because of staff attrition and hiring freezes due to the budget sequestration deal back in Washington in early 2013.