RICHMOND — Beginning the 11th season of his NFL career, DeAngelo Hall is aware of the realities of a brutal game.
"Mentally, I'm just in a place where I know I don't have a lot of football left," Hall said Thursday as the Redskins opened training camp. "So I'm just trying to go out there and have as much fun as possible, lay it all on the line, not leave anything in the tank so when I do walk away from this game I feel good about it."
Not that Hall, at age 30, is planning a farewell tour. Earlier this week, he took to Twitter after noting — and apparently being left out of — a discussion of the best cornerbacks in the NFL: "All I have to say is the film don't Lie… Go put mine on and let's talk"
---
SPECIAL COVERAGE: Washington Redskins
---
Following the team's first workout of camp, he expanded on those thoughts.
"As a corner, if you don't feel like you're the best, you've got a problem right there," he said. "I never said I was the best, I would be a fool to think 11 years in I'm the best in the game right now. [But] I definitely think I'm pretty successful at doing what I do."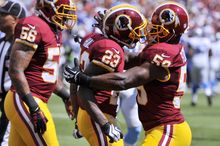 Hall has been a steady producer throughout his career, collecting multiple interceptions in each of his 10 NFL seasons. He made four picks each of the last two seasons for Washington, and scored three touchdowns on returns last year (one fumble, two interceptions).
---
SEE ALSO: Robert Griffin III, Redskins get training camp underway
---
Despite his occasional propensity for creating trouble for himself, the Redskins clearly believe in Hall as a key piece on a unit that has taken its share of criticism recently. They signed him to a four-year deal in February and expect him to take on more of a leadership role this year after London Fletcher's retirement.
It all comes down to getting it done on the field, though, and Hall is not lacking confidence there.
"It's not about me saying I can do this or I can do that," he said. "At some point, I'm going to have to face Calvin [Johnson], I'm going to have to face Dez [Bryant] and all these other guys. I let my play speak for itself, but if you sit down and watch film and compare my numbers against those guys — any corner — I'll take myself in a heartbeat."