Russia's recent missile developments represent a "material breach" of its obligations under the 1987 Intermediate-Range Nuclear Forces (INF) Treaty, a senior House Republican said Wednesday.
"There is no doubt — and I mean no doubt — that Russia's actions transcend mere violations and constitute a material breach of this central arms control treaty," Rep. Mike Rogers, Alabama Republican and chairman of the House Armed Services subcommittee on strategic forces, said at a Capitol Hill defense breakfast.
The congressman did not elaborate on the "breach," which is defined as an impermissible repudiation of a treaty or a violation of a provision essential to the treaty's object or purpose.
---
SEE ALSO: Putin strikes back: Russians launch surprise war games next to NATO exercises in the Baltics
---
U.S. officials said the main INF violation has been multiple tests since 2008 of a new cruise missile identified as the R-500, which has a range of about 1,243 miles. Another violation was the testing of the SS-27 Mod 2 intercontinental range ballistic missile to ranges banned by the INF treaty.
The Soviet-era nuclear treaty bans missiles with ranges between 500 kilometers and 5,500 kilometers (between 310 miles and 3,417 miles).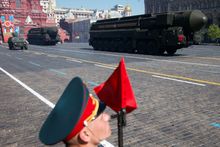 Mr. Rogers said President Obama has been unwilling to report to Congress on the arms treaty violation. An annual report to Congress on treaty compliance was due April 15 and has not yet been sent from the State Department to Capitol Hill, he said.
"Depending on your calendar, we are two months or six years past when the president should have declared Russia to have broken the INF Treaty," Mr. Rogers said. "Yet we've heard nothing from the president on this. We've heard nothing from the secretary of state [John F. Kerry], and he promised bold action in December 2012 before he was confirmed as secretary of state. We've heard nothing from him at all."
Mr. Rogers said the political message sent by the administration to Moscow by failing to press for INF compliance is that the United States will not confront Russia on the violations and other belligerent behavior.
As a result, House Republicans and Democrats joined together in adding language to the current defense authorization bill declaring Russia in material breach of the treaty and that its actions must be confronted by the administration, he said.
Mr. Rogers suggested the United States should withdraw from the INF accord in order to build its own intermediate-range missiles that are needed by the military for its program known as Prompt Global Strike — a conventional attack capability that will allow hitting any location on earth within 30 minutes.
"How much longer can we accept this reality of unilateral arms control obligations and clear threats to our allies and deployed forces?" Mr. Rogers said.
A State Department official said: "We have concerns about Russian compliance with the treaty. We have raised them with Russia and are pressing for clear answers in an effort to resolve our concerns."
The annual compliance report is expected to be "finalized" shortly, the official added.
AL QAEDA'S ANDROID SOLUTION
Al Qaeda last week offered its corps of jihadists new encryption software for use on Android cellphones to avoid monitoring by intelligence agencies.