The Obama administration signaled increasing openness Monday to an alliance with Iran to combat al Qaeda-inspired militants in Iraq, despite State Department counterterrorism documents accusing Tehran of undermining security in the region and tolerating a flow of cash and fighters to al Qaeda in Syria.
The administration made its dramatic policy turn as the Islamic State of Iraq and the Levant laid siege to another northern Iraqi city Monday, sending thousands of residents fleeing and giving ISIL control of a vast swath of territory from the Tigris River in central Iraq all the way across the Syrian border.
Early Monday, Secretary of State John F. Kerry suggested that Washington would be open to some form of military-to-military coordination with the Shiite Muslim government in Iran, which borders Iraq to the west, to contain the advance by ISIL — a Sunni group that has seized Iraqi cities nearly as far south as Baghdad in 10 days.
---
SEE ALSO: For any U.S. airstrike to succeed, the Iraqi army must stand and fight, experts say
---
Although Mr. Kerry did not offer details, the Pentagon has surveillance drones flying over Iraq. There was speculation that intelligence from their missions may be shared with the Iranian-backed militias loyal to Iraq's Shiite prime minister, Nouri al-Maliki.
The Obama administration announced over the weekend that it sent the U.S. aircraft carrier USS George H.W. Bush, as well as a guided-missile destroyer and a guided-missile cruiser, to the Persian Gulf in response to the crisis.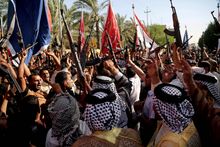 Questions were raised Monday about whether Mr. Kerry spoke before the White House made an official decision on coordinating with Iran. By Monday afternoon, several administration officials were downplaying the secretary's remarks, which he made during a live Internet interview with Yahoo News.
---
SEE ALSO: Mike Rogers: Iraqi terrorists could hit America: 'This is as dangerous as it gets'
---
Iranian President Hassan Rouhani made headlines over the weekend by saying the Islamic republic was "ready to help" in Iraq. He said that if Washington moved against ISIL, Iran could "think about cooperation," but the U.S. had made no specific request.
Asked specifically Monday whether there was potential for cooperating with Iran militarily, Mr. Kerry said, "We need to go step by step and see what, in fact, might be a reality. But I wouldn't rule out anything that would be constructive to providing real stability."
At the Pentagon and the State Department, officials said the idea of serious military-to-military coordination with Iran was not on the table. But they did say a possible goal for Washington may involve an alliance with Tehran similar to one from the months immediately after 9/11 — when the two longtime enemies shared intelligence to take down the Taliban, a common enemy in Afghanistan.
State Department spokeswoman Jennifer Psaki said that despite strong U.S. concerns about terrorist activity backed in the region by Iran, "this is a case where we're open to a discussion, because we've done that in the past when it came to Afghanistan."
That openness, which Pentagon spokesman Rear Adm. John Kirby said could advance with discussions this week on the sidelines of U.S.-Iranian nuclear talks in Vienna, suggested that the administration may be scrambling to exert influence over the Iraqi security meltdown.
Iraq is wedged between the Shiite Islamic Republic of Iran and the Sunni Kingdom of Saudi Arabia, and a growing number of analysts say the situation is teetering on the edge of an all-out sectarian war pitting the region's two main Muslim powers against each other.
With such fears as a backdrop, there are also concerns about how a suddenly deepened U.S.-Iranian relationship will be received by Washington's closest allies in the region: Saudi Arabia and Israel. Both nations view Iran as a threat and may be pushed toward making their own unpredictable moves in response to expanded U.S.-Iranian cooperation.
Some observers countered that speculation Monday, arguing that the wider adversarial relationship between Washington and Tehran is unlikely to seriously change.
"It's not as if the U.S. is going to become softer toward Iran on other issues such as the nuclear situation just because they have some coordination in response to ISIL," said Trita Parsi, who heads the U.S.-based National Iranian American Council, which promotes diplomacy between Washington and Tehran.