North Korea's communist government on Wednesday threatened unspecified retaliation against the United States if an upcoming comedy depicting two journalists tasked by the CIA to assassinate leader Kim Jong-un is released.
In a statement issued by the North Korean Foreign Ministry, the film was called a "despicable maneuver" by enemies to tarnish the totalitarian state's dignity.
The statement was issued in response to the release of a movie trailer for "The Interview," in which Seth Rogen and James Franco are granted an interview with Mr. Kim and then are tasked by CIA to kill him. The trailer can be viewed on youtube.com.
---
SEE ALSO: Kim Jong-un gets a video game: 'Glorious Leader!' takes on American 'capitalist swine'
---
Describing Mr. Kim as "our supreme nerve center," the North Korean statement attacked the United States for insulting the supreme leader, who has continued a personality leadership cult modeled after those of his grandfather and father.
"The United States' reckless frenzy of provocation — which is [seeking] to eliminate our supreme nerve center by using a gangster moviemaker as a front — is exploding the surging animosity and rage of our army and people," the statement said.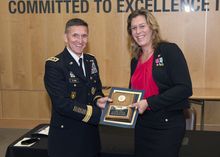 The movie, according to the ministry, is a "blatant act of terrorism" and "an act of war."
---
PHOTOS: 20 gadgets that changed the world
---
"Those who defamed our supreme leadership and committed the hostile acts against [North Korea] can never escape the stern punishment to be meted out according to a law, wherever they might be in the world," the statement said. "If the U.S. administration connives at and patronizes the screening of the film, it will invite a strong and merciless countermeasure."
Mr. Rogen joked on Twitter: "People don't usually wanna kill me for one of my movies until after they've paid 12 bucks for it."
North Korea recently produced several propaganda films showing nuclear missile attacks on New York.
Last year, North Korean propagandists used footage of the Hollywood movie "Olympus Has Fallen," about a North Korean commando attack on the White House, in threatening an attack on the United States.
ISIL: DEATH TO AMERICANS
The al Qaeda offshoot that has taken over large parts of Iraq this month has launched a global propaganda campaign threatening attacks on Americans if the United States intervenes in the conflict.
The campaign, by backers of the Islamic State of Iraq and the Levant (ISIL), also known as ISIS, launched Monday on Twitter.
The campaign, in both English and Arabic, is being watched closely by U.S. and allied intelligence agencies concerned about terrorist attacks against the United States and its interests related to the conflict in Iraq and Syria.
The effort will seek to sow fear and incite attacks and will use images of the September 11, 2001, terrorist attacks on the World Trade Center with its messaging.