Gay marriage didn't get much attention from the stage at last week's Conservative Political Action Conference, but many in the rank-and-file still fall on the side of defending traditional marriage and say it's an issue on which Republicans should stand firm.
"You can't legislate morals," said Robert Geyer, a 47-year-old CPAC attendee who works for an oil company in Baltimore. "The system of marriage and our society works. But if you're going to make homosexuality a privileged class and force everybody else into that, [it's] going to break the system down."
At a time when polls suggest voters are increasingly supportive of same-sex marriage, the issue continues to roil conservatives. After years of prominent battles, CPAC downplayed the issue this year, with just a few speakers mentioning it prominently.
One of those who did was Ben Carson, who finished third in The Washington Times/CPAC presidential preference straw poll, and who told the annual conservative gathering that marriage should be between a man and a woman.
Still, even Mr. Carson acknowledged it was a good thing there weren't too many panels devoted to social issues on CPAC's agenda this year.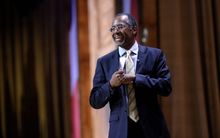 "There are so many gigantic issues right now. The ship's about to go off the cliff and we really need to be focusing on those," Mr. Carson told The Times. "The social issues are more like barnacles on the side of the ship, and we have plenty of time to get those off the ship after we get it turned around so that we don't go over the cliff."
Fifty-four percent of the public favors gay marriage, but opinion is still sharply split along party lines, according to numbers released Monday by the Pew Research Center: 69 percent of Democrats and independents who lean Democrat support it, compared to 39 percent of Republicans and GOP leaners.
However, among Republicans under the age of 30, 61 percent support gay marriage and just 35 percent oppose it.
"This is the civil rights issue of the 21st century," said CPAC attendee Alexander McCobin, president of the group Students for Liberty.
But Matt Spalding of Hillsdale College said the prospect of government defining marriage should scare civil libertarians and social conservatives alike.
"The problem we have here with this issue is the question of marriage does cut to the nature of things," said Mr. Spalding, associate vice president and dean of educational programs at the Michigan school. "If you don't recognize the fact that the government needs to protect those that have religious liberty objections to this fundamental question, then you're giving up your liberty because now government has the right to step in and define those things for you, and I guarantee you — that's what they're going to do."
CPAC itself has had a thorny history with gay rights.
In previous years, GOProud, a Republican gay rights advocacy group, was barred from participating in the annual conference as a sponsor, after complaints by social conservative groups.
But GOProud reached a compromise this year with the American Conservative Union, CPAC's main sponsor, to have the group's co-directors attend the conference as guests.
ACU Executive Director Dan Schneider said he believed the inclusion could establish a "productive relationship in the future" between the two groups. But the move caused GOProud co-founder Chris Barron to resign from the group in protest, arguing it shouldn't have accepted anything less than sponsorship or a booth.