NEWSMAKER INTERVIEW:
The top diplomat from the Turkish north of Cyprus said core differences with the Greek south could be resolved in a "matter of months," putting the divided Mediterranean island's reunification within reach for the first time in four decades.
Cyprus is at a threshold of tapping potential wealth from natural gas, vast reserves of which have been found in the eastern Mediterranean — and the future export from a united Cyprus could wean Europe off its dependence on Russian energy, said Ozdil Nami, the foreign minister of the Turkish Republic of Northern Cyprus.
"Of course, the precondition to achieve that scenario is first reaching a settlement to the Cyprus issue," Mr. Nami told editors and reporters at The Washington Times on Monday, during a wide-ranging interview that included an assessment of the Obama administration's role in the historic reunification talks that got underway last month.
Cyprus was split into an internationally recognized Greek-speaking south and a Turkish-speaking north in 1974, when Turkish forces invaded after a coup by supporters of a union with Greece. Turkey does not recognize Cyprus as a sovereign country, while most of the world does not formally recognize the Turkish Cypriot state.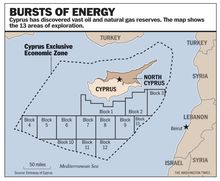 Despite a series of failed attempts at reunification, the two sides came together in February with an eye on sharing the potential windfall from the region's energy reserves. So far, both sides have agreed on a common goal of establishing a bizonal, bicommunal federation with political equality between the Turkish and Greek Cypriot communities.
The next step is to deal with property claims, territorial adjustments and security guarantees. While Mr. Nami described such issues as "difficult and challenging," he confidently predicted that it will now be just "a matter of months, not years, to finish these talks and create a new comprehensive settlement agreement."
"What is required now," he added, "is the political determination to reach compromises."
In 2004, the Greek Cypriot side rejected a United Nations plan for reunification — a plan endorsed by Turkish Cypriots — and Cyprus joined the European Union as a divided island. But Cyprus' economy was badly hurt by its exposure to Greece's recession-hit economy in recent years. It was forced to take an almost $14 billion international bailout to rescue its banking system.
Greek Cypriots continue to face enormous economic challenges.
Mr. Nami estimated that it would take up to 20 years for Greek Cypriots to attain the standards of living to which they were accustomed before the economic collapse.
"In order to make that a shorter time frame, they need a jump," he said, adding that it "can only be achieved through resolving the Cyprus issue."
Greek Cypriot and Turkish Cypriot negotiators are now meeting almost twice a week, and their leaders plan to review progress before the end of March.
The two sides will undertake a series of confidence-building measures that include greater ties between Greek Cypriot and Turkish Cypriot businesses; cooperation on health, the environment, protection of cultural heritage sites and fighting crime; and opening more crossing points.
The Turkish Cypriot side has tried to sweeten the pot by promising to share water and electricity that it hopes to eventually get from Turkey. "This is something which motivates our counterparts for reunification," Mr. Nami said. "We are actually trying to make a deal much more attractive."