Rep. Joe Courtney, Connecticut Democrat, said Tuesday that Virginia Gov. Terry McAuliffe's victory in November is proof that campaigning on gun control measures like universal background checks is a winning message.
"Last November, there was actually a battle for the governor of the commonwealth of Virginia where one of the candidates played to the pundits, the cheap cynics, that campaigning against Terry McAuliffe's position on background checks was his ticket to the governor's mansion and Terry McAuliffe, to his credit, stood firm," Mr. Courtney said at an event on Capitol Hill Tuesday honoring the 26 victims of the December 2012 Sandy Hook school shootings.
Mr. McAuliffe's Republican opponent, former state attorney general Kenneth T. Cuccinelli II, had pointed out that the Democrat was the only candidate running statewide last year with an 'F' rating from the NRA.
"He took it from every direction, from every outside expenditure, and at the end of the day … he stood tall and was the winner," Mr. Courtney said. "So if there's a test of whether or not the public is there, that race over in Virginia demonstrated it."
The NRA Political Victory Fund made about half a million dollars' worth of television and online advertising buys and other smaller expenditures opposing Mr. McAuliffe in the race.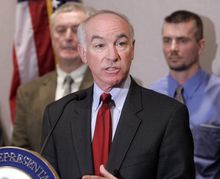 Meanwhile, Independence USA PAC, a gun control advocacy group associated with former New York City Mayor Michael Bloomberg, made a $1.75 million buy for Mr. McAuliffe in late October, according to the nonpartisan Virginia Public Access Project.
All told, Mr. McAuliffe spent nearly $40 million — nearly twice as much as Mr. Cuccinelli and far and away the most of any gubernatorial candidate in state history — to win by about 2.5 percentage points with less than 48 percent of the vote in a race so acrimonious one late-night comedy show likened it to a choice between "a heart attack and cancer."