Prominent Republicans see no evidence that their party's electoral successes have advanced the cause of limited government and moral governance.
"Today, our party's leaders act like thermometers measuring the temperature of the electorate. We need to be the thermostats and set the temperature," said Rob McCoy, pastor of Calvary Chapel, a few minutes' drive from the Reagan presidential library in Simi Valley, Calif.
For Republicans like Mr. McCoy, who is running for a state Assembly seat, the national party has racked up decades of compromises that have led to relentless government expansion, ever-increasing spending growth, continually mounting national debt and growing intrusiveness into the private lives of Americans.
From her George Mason University's Mercatus Center office in Arlington, Va., economist Veronique de Rugy looks at the objective evidence of the Republican Party's effect on limiting government.
"Every president has spent more total real dollars in his last budget than in his first," she said, noting that Democrat Lyndon B. Johnson increased spending by 38 percent, but George W. Bush, twice elected on a conservative Republican platform, increased spending by 53 percent during his presidency.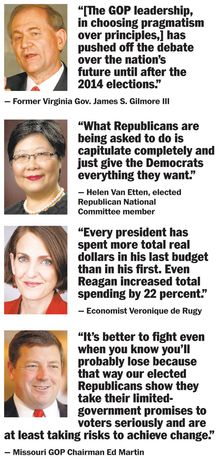 "Even Reagan increased total spending by 22 percent" over President Carter, she says on her website.
Similar disappointments are nagging at other conservatives as an expected 10,000 of them — nearly half college age — prepare to descend on Washington for the 41st annual Conservative Political Action Conference this week at the Gaylord National Resort and Convention Center.
As always, the big question at CPAC will be over the best tactics to advance conservative ideas — specifically how often, if ever, to engage in principled but lost causes such as the filibusters that Sen. Ted Cruz of Texas and fellow conservatives have launched, against the wishes of the GOP's more center-right leadership in and out of Congress.
Limited-government warriors such as Helen Van Etten, chief audiologist for the Topeka, Kan., school district, strongly backs Mr. Cruz and his allies. She said these conservatives are willing to risk losing legislative battles — and even their own re-election races — to mount high-profile challenges to what they see as big-government advocacy from the national news and entertainment media.
Mrs. Van Etten, an elected Republican National Committee member, rejects the idea that the temperature setters are interested only in blocking action in Washington.
The problem, she said from her Topeka office, is not one of action versus inaction, but that "Republicans [are] being asked to compromise. That implies that we're meeting the Democrats in the middle. What Republicans are being asked to do is capitulate completely and just give the Democrats everything they want."
The temperature setters refuse to grant the temperature takers an exclusive franchise on the pragmatic electoral concerns. Oklahoma veterinarian and RNC member Carolyn McLarty contended that the hard-liners' tactics "have strengthened the base by offering a glimmer of hope that some in Congress have the guts and grit to make a difference."
Standing fast on principle to block bad legislation no matter the outcome doesn't automatically conflict with pragmatic goals, said Iowa Republican Party Chairman A.J. Spiker. He insists the Ted Cruz-style filibusters and filibuster threats were not lost causes but rather "much-needed wind in the sails of conservatives."
Far from voter backlash that the thermometer faction so fears, Missouri Republican Party Chairman Ed Martin said, "Our voters are glad someone is standing up to fight. It is better to fight even when you know you'll probably lose, because that way our elected Republicans show they take their limited-government promises to voters seriously and are at least taking risks to achieve change."
Conservative ratings