U.S. lawmakers are increasingly concerned about Russian troop movements on the border with Ukraine and the prospect of an additional land grab, as both houses of Congress voted to slap sanctions on Russia and extend loan guarantees to Ukraine.
Pentagon officials briefed senior Republicans on the House Armed Services Committee that as many as 80,000 Russian troops may be massed just outside Ukraine, according to two congressional sources. That was more than twice the previous assessment.
"This buildup is significant and clearly indicates that President [Vladimir] Putin is creating options to potentially capture much of Eastern Ukraine and move on Kiev," Rep. Michael R. Turner, Ohio Republican and a senior member of the House Armed Services Committee, said in a statement.
---
SEE ALSO: House and Senate pass aid to Ukraine, sanctions on Russia
---
Fears were stoked even as Congress took its first concrete steps in weeks to support Ukraine. The House and Senate each passed bills codifying sanctions on top Russian officials and extending $1 billion in U.S. loan guarantees to Ukraine.
The International Monetary Fund also agreed to extend billions of dollars in financial assistance, and the U.N. General Assembly, in a surprising show of solidarity with Ukraine, voted to disavow the Russian annexation of Crimea last week.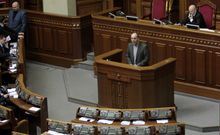 In Ukraine, the interim prime minister warned that the country faces tough economic decisions in order to meet conditions for the IMF aid, The Associated Press reported.
---
SEE ALSO: Even the dolphins, Vladimir? Russia to take control of Ukraine's military dolphins
---
Yulia Tymoshenko, a former prime minister who was imprisoned under the previous regime, said she will make a run at the presidency, adding to the country's complicated political situation.
In Washington, lawmakers congratulated themselves for breaking a two-week standoff and passing bills that would codify sanctions on Russia and extend loan guarantees to Ukraine.
But in a signal that they still aren't in complete agreement, the House and Senate passed slightly different versions. One of the chambers will have to hold another vote before sending a final bill to President Obama.
Lawmakers insisted the bills — which passed by voice in the Senate and by a 399-19 vote in the House — are not the beginning of a broader push toward war but made important statements to Ukraine, Russia and the rest of the world.
"I am not predicting that we will have a World War III. I am predicting that unless we act and act vigorously — a lot more than this legislation today — Vladimir Putin will be encouraged to take further actions," said Sen. John McCain of Arizona, who has claimed leadership on the issue among Senate Republicans.
Even before they finalized their legislation, lawmakers were plotting their next moves.
Some senators want Mr. Obama to send small arms and communications equipment to Ukraine, whose armed forces are overpowered by Russia's. So far, U.S. assistance has been limited to food rations.
A bipartisan group of senators issued a letter Thursday that called on Mr. Obama to impose sanctions and cancel contracts with a Russian arms firm, Rosoboronexport, which the senators said has been paid more than $1 billion over the past few years for helicopters.
Ukrainian National Security Council chief Andriy Parubiy said he, too, would like Western nations to sanction Rosoboronexport. He said sanctions should go beyond the government officials and businessmen with ties to Mr. Putin who have been targeted so far.