MOSCOW — Russian President Vladimir Putin's domestic critics have rarely had it easy. Now, as a wave of patriotism sweeps Russia in the wake of its annexation of the Crimean Peninsula, voices of dissent are in danger of being silenced altogether.
Mr. Putin's strong-arm tactics in Ukraine may have left Russia isolated in the international arena, but his foreign policy adventures have proved wildly popular at home. The ex-KGB officer's approval ratings are over 80 percent, his highest in years, according to a poll published this month by the independent, Moscow-based Levada.
"For a while, I thought things might improve in Russia," said Olga Dobina, a young housewife shivering at a sparsely attended protest last week. "But now Putin is as popular as ever, and we are seeing a return to Soviet-style political propaganda and political repression."
---
SEE ALSO: White House blasts 'illegal' balloting results in eastern Ukraine
---
Moreover, Mr. Putin — an occasionally shirtless, big-game hunting, horseback-riding, judo expert — continues to burnish a virile, strongman image that reinforces Russia's emergence as a major player on the world stage. Most recently, the president scored six goals and dished five assists in an amateur hockey game, which his team won 21-4. The game, like many of Mr. Putin's other high-profile athletic achievements, was covered by state-run media.
Buoyed by domestic enthusiasm, Mr. Putin and his allies have turned the screws even further on the Kremlin's beleaguered critics. Mr. Putin and state media outlets have described opposition activists as "national traitors" amounting to a "fifth column" in the pay of the West.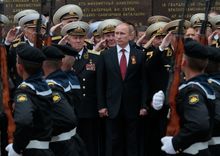 "Putin has nothing left to lose, and so he has chosen the totalitarian route," said Viktor Shenderovich, a Russian writer and Kremlin critic. "The authorities have gotten harsher. People have been ready to go out into the streets on peaceful protests, but they are not ready to face police nightsticks."
---
PHOTOS: Russian President Vladimir Putin
---
As a result, Russia's "white ribbon" protest movement, which was once able to attract more than 100,000 people to anti-Putin rallies, has been brought to its knees. Two of its most high-profile leaders, the anti-corruption activist Alexei Navalny and the leftist Sergei Udaltsov, are under house arrest, and many rank-and-file activists are behind bars. Others have been forced to flee the country.
"The protest movement is not defeated, but demoralized and disorganized," said Oleg Kozlovsky, a longtime anti-Putin activist and Navalny supporter. "Criticism has gone back into the Internet and the kitchens again."
The protest movement has shown some signs of life recently. In mid-March, more than 40,000 people took to the streets of Moscow to rally against Mr. Putin's tactics in Ukraine.
However, by siding with the new government in Kiev — depicted as bloodthirsty fascists by Kremlin-run media — the protest movement has alienated many former supporters.
"When the white-ribbon movement protests against corrupt officials and politicians, I'm ready to back it," said Pavel Barinov, a student handing out World War II Victory Day ribbons in Moscow last week. "But when they rally in support of the fascists in Kiev, I can't stand for that."
'This is our sickness'
Public support of the annexation of Crimea, which was "gifted" to Ukraine from Russia by Soviet leader Nikita Khrushchev in 1954, has been so great that even some of Mr. Putin's fiercest critics have applauded the move.
Mr. Udaltsov, the leftist leader under house arrest, and Eduard Limonov, a firebrand author and veteran opposition politician, have publicly supported Mr. Putin's actions in Crimea.
"Crimea has returned to its rightful owner," Mr. Limonov wrote after Mr. Putin "accepted" Crimea's request to rejoin Russia.