First bare-chested horseback riding and hunting. Then hang-gliding and diving. Now, ice hockey.
Russian President Vladimir Putin's latest high-profile, athletic event covered by government-run media is the prime-time win of his amateur hockey team, stocked with former Russian puck stars, over a series opponent.
And no doubt, Mr. Putin was named the game's first star: He scored six goals and dished five assists in his team's 21-4 win.
Mr. Putin's image, decked in hockey helmet and gear, interrupted the news hour — just at the point when the coverage had turned to the battle between Russia and neighboring Ukraine, the Wall Street Journal reported.
Mr. Putin has been a semi-regular on news sporting coverage, making international headlines for previous bare-chested horseback rides that were sometimes used in comparison with President Obama's sandal-footed vacations.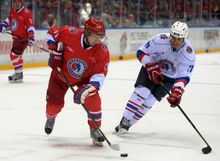 After the lopsided win, Mr. Putin remarked: "There are no winners or losers here. This is a friendly game," the Wall Street Journal reported.
Pavel Bure, the former Vancouver Canuck known in NHL circles as the 'Russian Rocket,' hailed Mr. Putin's excellent physical condition.
"That the president of the world's largest country with a busy schedule has learned to play ice hockey and found time for that is an indication of his excellent shape," Mr. Bure said, the Wall Street Journal reported.
Mr. Putin's obsession with projecting athletic domination may be a sign of overcompensation, psychologists say.
On the flip side, President Obama regularly plays basketball without trying to choreograph the game's outcome. And he's a 17-handicap golfer, which is respectable — though not outstanding.
That honor goes to former North Korea dictator Kim Jong-il: He shot 38-under par with 11 holes-in-one while playing his very first round of golf.