A bipartisan bill to reform international adoption in the U.S. is running into stiff opposition.
Proponents say U.S. foreign policy and programming need to be reorganized to help ensure that millions of orphans are relocated from institutions to families, and that ethical, inter-country adoption by Americans is part of that solution.
"We believe this bill will increase the protection of children" and help ensure that parents raise children, not governments, Sen. Mary L. Landrieu, Louisiana Democrat and lead sponsor of the Children in Families First Act (CHIFF) in the Senate, said Tuesday.
---
SEE ALSO: Legislation may reveal adoptees' birth mothers
---
Opponents counter that the proposed bill is an effort by adoption agencies to save the lucrative but dwindling practice of international adoption.
Barely 7,000 foreign-born children were adopted into the U.S. in fiscal 2013, compared with nearly 23,000 children in fiscal 2004, State Department data show. The median cost of an international adoption was around $28,800, with half of adoptions costing more than that and half less than that, the agency added in its annual report on inter-country adoption, issued in March.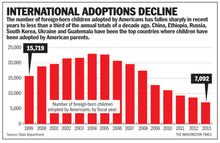 Thousands of U.S. adoptions of orphans have been blocked, apparently by "arbitrary" State Department policies, as adoption agencies told Secretary of State John Kerry in December.
Mrs. Landrieu and Rep. Trent Franks, Arizona Republican, told a Tuesday webinar that the proposed legislation would substantially advance the idea that orphaned children should not be left in institutions — or to fend for themselves on public streets — when there are ways to find families for them.
The bill would create a bureau for "vulnerable children" in the State Department — relocating international child welfare and adoption under the department's human rights office. It would also affect U.S. agencies for international development and immigration and customs, and address issues regarding adoptions with both member and nonmember countries of The Hague Convention on Intercountry Adoption.
The bill's goals include ending "adoption-case ping-pong" — where families and orphans spend months waiting for agencies to resolve their paperwork issues — and ensuring that "family preservation, family reunification and adoption are true priorities" in U.S. foreign aid and diplomacy.
Prognosis for passage, however, is not assured.
"There is pushback from the State Department," Mrs. Landrieu told the webinar. She and Mr. Franks answered criticisms about the bill but agreed that fresh dialogue about the bill's language could very well lead to both chambers passing CHIFF this year.
Opponents, however, say CHIFF doesn't address problems dogging international adoption, such as U.S. adoptive families deciding to "rehome" their unwanted, foreign-born children into new families they find on the Internet. There are also fears that by reshuffling federal responsibilities, oversight on adoption abuses, like trafficking or baby-stealing, will get worse instead of better.
It is "a bad vehicle," said Maureen Flatley, a child welfare consultant in Massachusetts who is part of a "Stop CHIFF" effort on Facebook and other social media.
The "adoption industry" has lost more than 60 percent of its business due to scandals involving child trafficking and child abuse in several countries, poundpuplegacy.org wrote on the anti-CHIFF Facebook page. The bill can't be fixed or amended, so it should "never leave committee," the group added.
Some opponents wonder why lawmakers are focusing on international adoption when there is a domestic need. There are hundreds of thousands of adoptable children in U.S. foster care, so "why are we going abroad?" asked Mari Steed, a leader of the Adoption Rights Alliance and the Philomena Project, named for the Irish mother who searched in vain for a son who was sent to the U.S. for adoption without her knowledge.