Faith Wachsmuth wanted to know she could protect herself. Christopher Deleon is looking at a career in security. Jan Montgomery needed to know her mother would be safe.
The reasons why people buy guns are varied, but in Maryland new owners are all required to be on the same page when it comes to fulfilling purchasing requirements. As of Oct. 1, anyone looking to buy a handgun must obtain a qualifying license, a process that includes four hours of training taught by a certified instructor and time spent firing at a range.
In the weeks leading up to the start date, the Maryland State Police were criticized for the lack of information about what the licensing application would look like and what would be taught. But with classes finally beginning under the tutelage of instructors like Richard Chiapparoli, gun buyers are getting an education.
---
---
"People ask me, 'Should I buy a gun?' And I tell them that is a personal decision you and your family have to make," Mr. Chiapparoli said. "What I can tell you is if you're going to buy a gun, get trained."
Mr. Chiapparoli, 64, of Darnestown, is one of the more than 250 instructors teaching the qualification class in Maryland.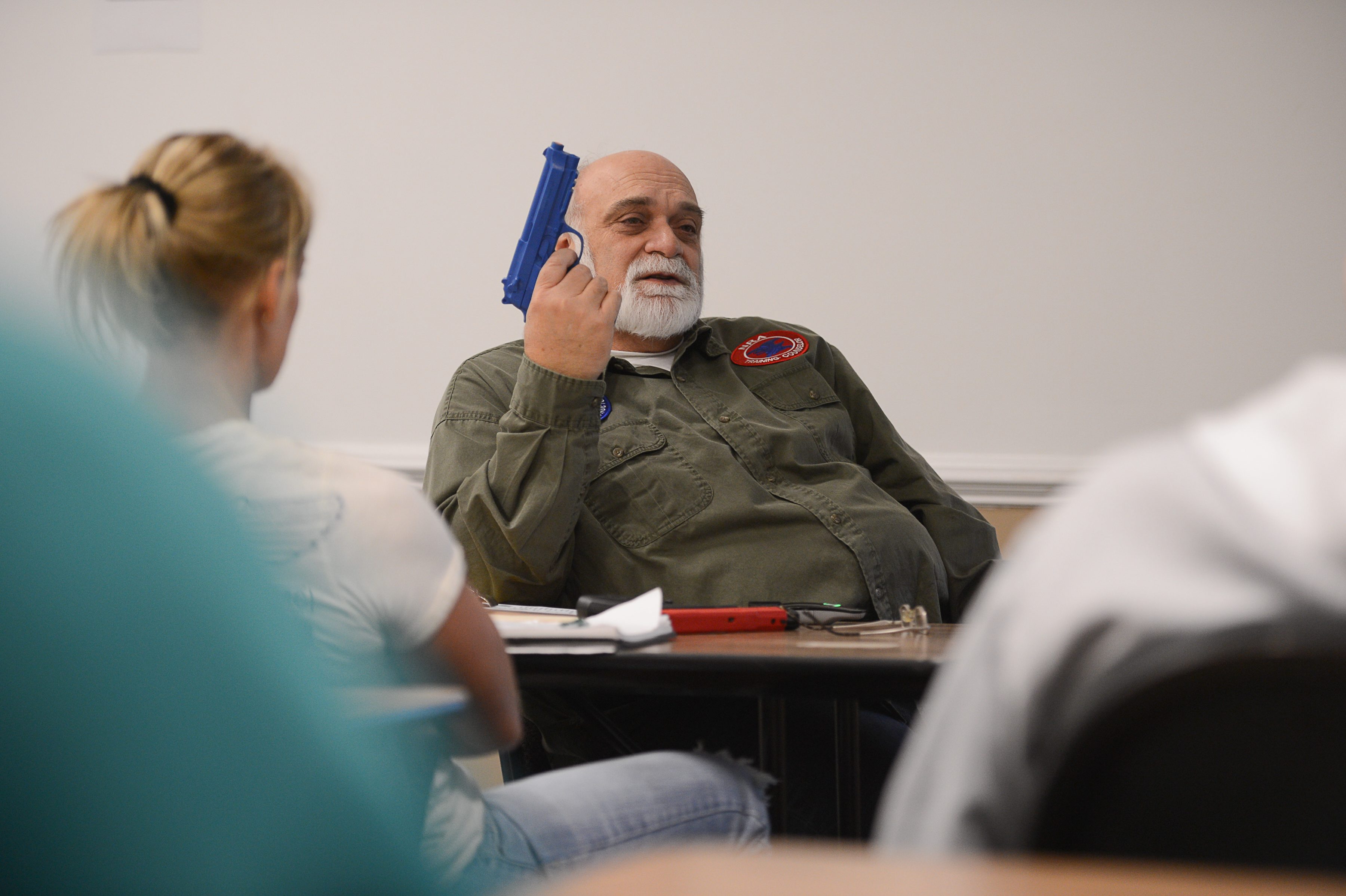 The license is part of the Maryland Firearm Safety Act of 2013, a legislative package that also requires fingerprinting, limits handgun magazines to 10 rounds and adds 45 guns to a list of banned assault weapons.
Gov. Martin O'Malley, a Democrat, proposed the bill in January and signed it into law in May. Gun owners, stores and firearms advocacy groups are seeking to overturn the regulations, which face a legal challenge early next year.
But as of Nov. 8, state police had issued 1,995 of the licenses since the law went into effect.
Mr. Chiapparoli and the other educators must teach a minimum four-hour safety course that covers the state firearm regulations, home firearm safety, handgun mechanism and operation and conduct an operation and handling demonstration.
On a recent Sunday, Mr. Chiapparoli's students made their way to the windowless classroom at Gilbert's Indoor Shooting Range in Rockville. They ranged in age from mid-20s to early 80s and clutched notebooks, pens and thermoses of coffee, or sat quietly in their chairs, arms folded.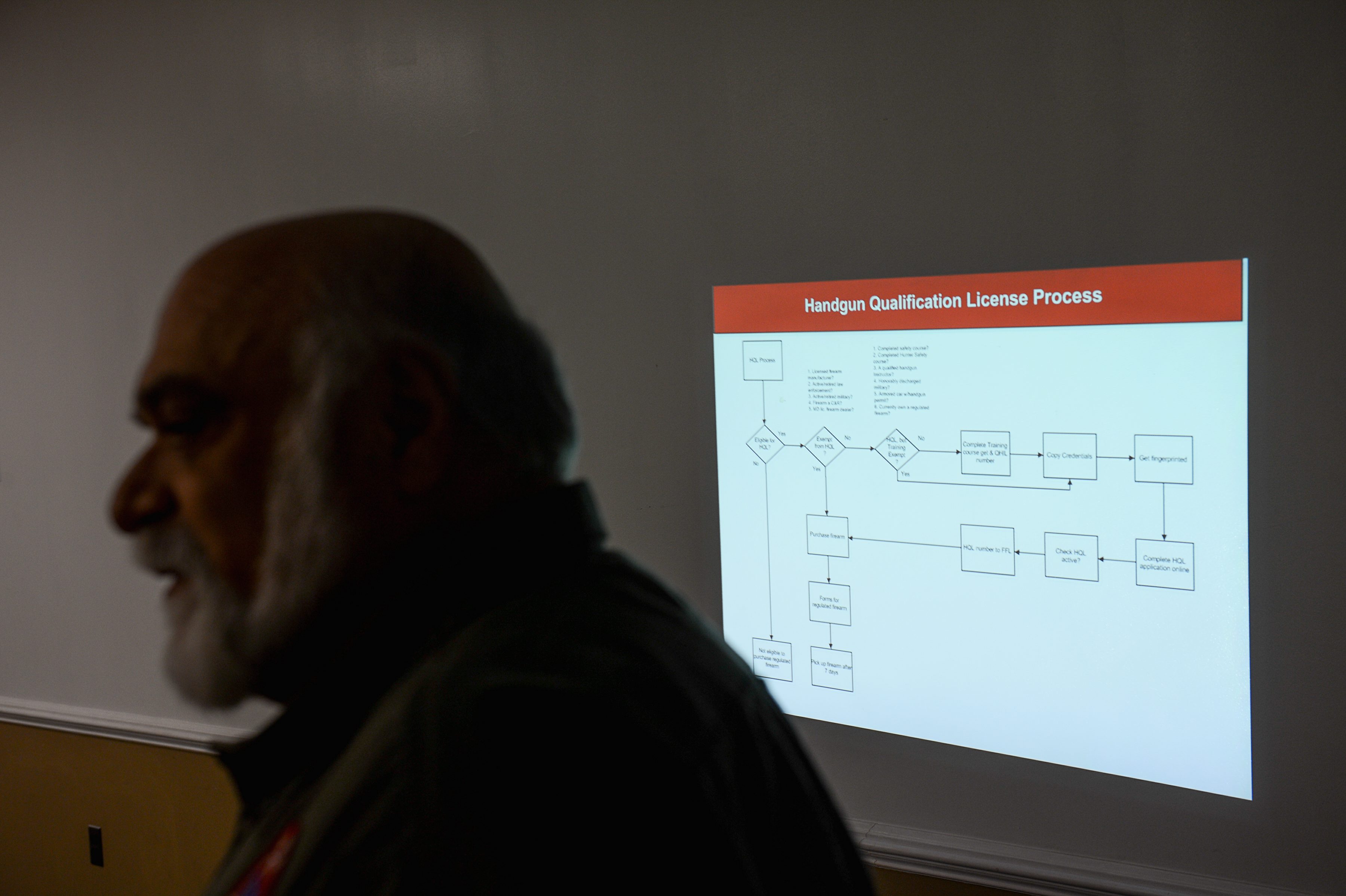 At the front of the room, Mr. Chiapparoli wielded a remote control that took the class through a series of slides. Mr. Chiapparoli, a retired chief information officer for AT&T, is a National Rifle Association counselor, meaning he also trains the gun-rights groups' instructors.
"The main thing out of this is you guys wanna get your guns," he said to scattered laughs.
One of the first slides he showed detailed three rules for gun safety.
"Always keep your gun pointed in a safe direction," he said. "A safe direction is the direction that would result in the least amount of damage."
The second rule urged gun owners to keep their fingers off the trigger, while the third rule reminded them to keep the gun unloaded when they're not using it.
Jack Cochran, an NRA instructor assisting Mr. Chiapparoli, chimed in that the other two rules are moot unless the first rule is followed.
"Why is the No. 1 rule important? If you fail two and three, you're not going to kill anybody."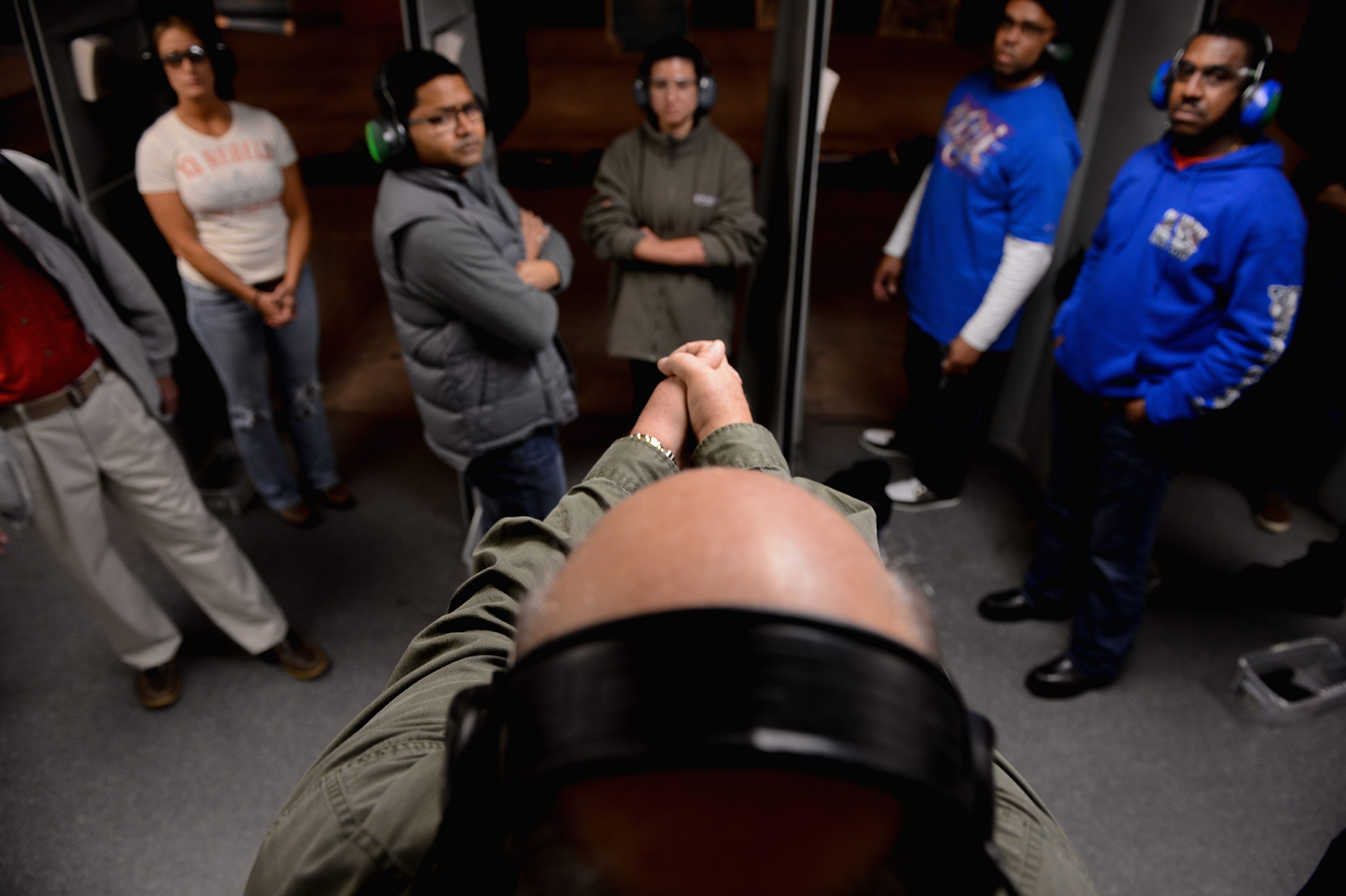 For the next 5½ hours, Mr. Chiapparoli led the class through the basics of handgun mechanics, handling and safety, as well as etiquette on the shooting range.
"The best safety is here," Mr. Chiapparoli said, pointing to his head. "The best safety is the three rules. The safety [button] can fail."
While Maryland law only requires a person to fire a single shot for their license, Mr. Chiapparoli had each member of the class fire 25 shots while being watched by range instructors and observed by a peer partner.
The range time was not without its incidents. One man cut his thumb on the hammer recoil because he was gripping the gun incorrectly, while another student accidentally began shooting before an official direction to commence fire and spooked the class. But other students proudly showed off their bullet-riddled targets and high-fived their partners.
"I urge you to keep shooting," Mr. Chiapparoli told the class. "It's the only way you're going to get better."
Ms. Wachsmuth, 40, of Germantown, said she had taken a couple lessons in the shooting range, but the qualification class was a good addition to fill in the background on safety.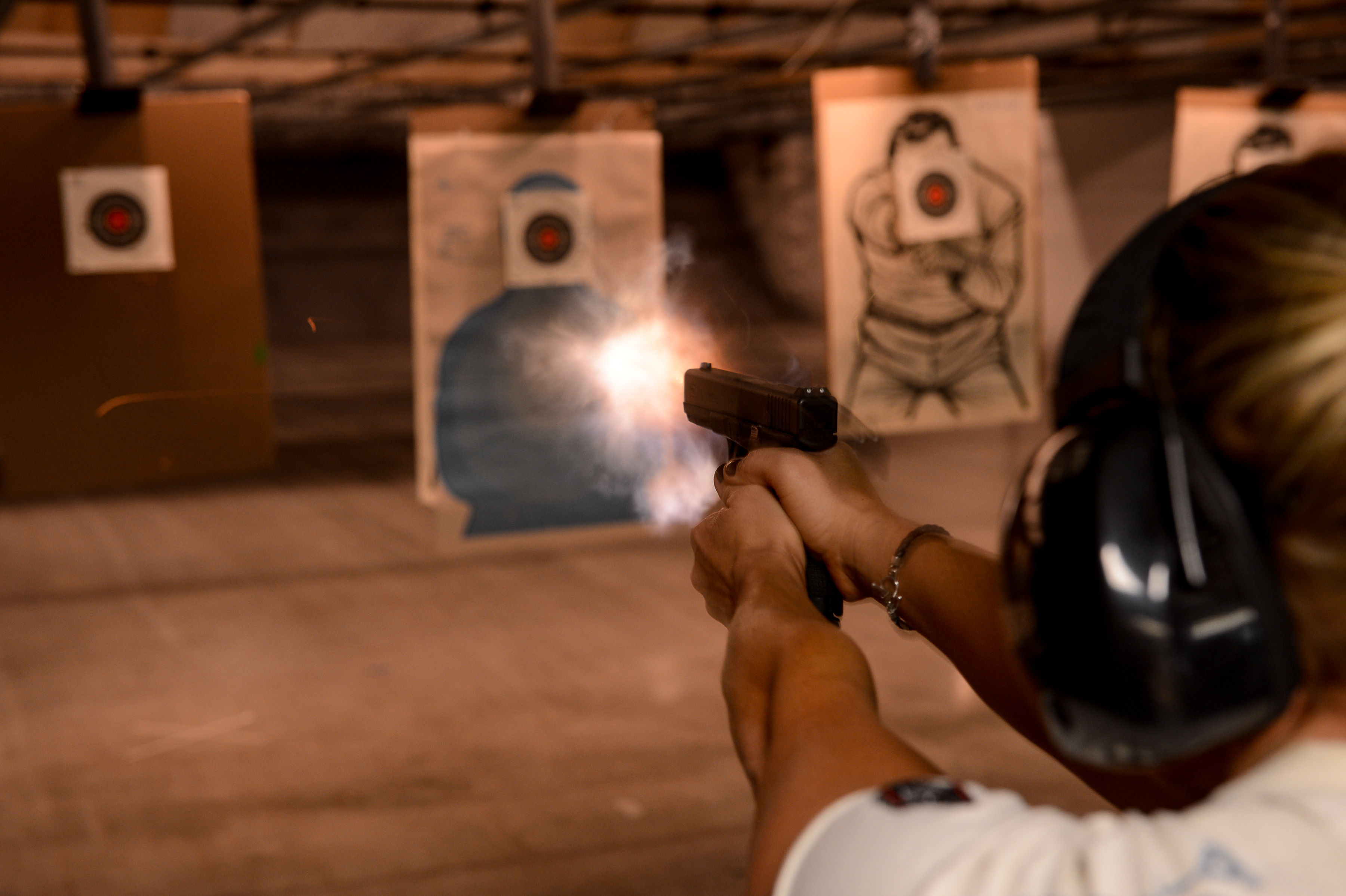 Petite, with a blond ponytail, Ms. Wachsmuth said she was interested in a gun for self-defense but was still uncertain about whether she might get one.
"We learned stuff I would never have known," she said. "I might not ever buy a gun" she added, "but just knowing if I need to "
People who take the class don't have to make up their minds about a gun purchase right away. Completion of the class will fulfill the handgun qualifying license's instructional requirement for three years.
The license itself is good for 10 years. Mr. Chiapparoli said that of the 18 students he certified in his class, 12 applied for the license.
"You get a wide variety of people," Mr. Chiapparoli said. "It's kind of a mixed bag. Some people are there to learn something. Other people are like, 'Gimme the permit and I'm out of here.'"
When the class was asked why they were considering buying a gun, the answers ranged from protection to recreation to simply learning the basics of using firearms.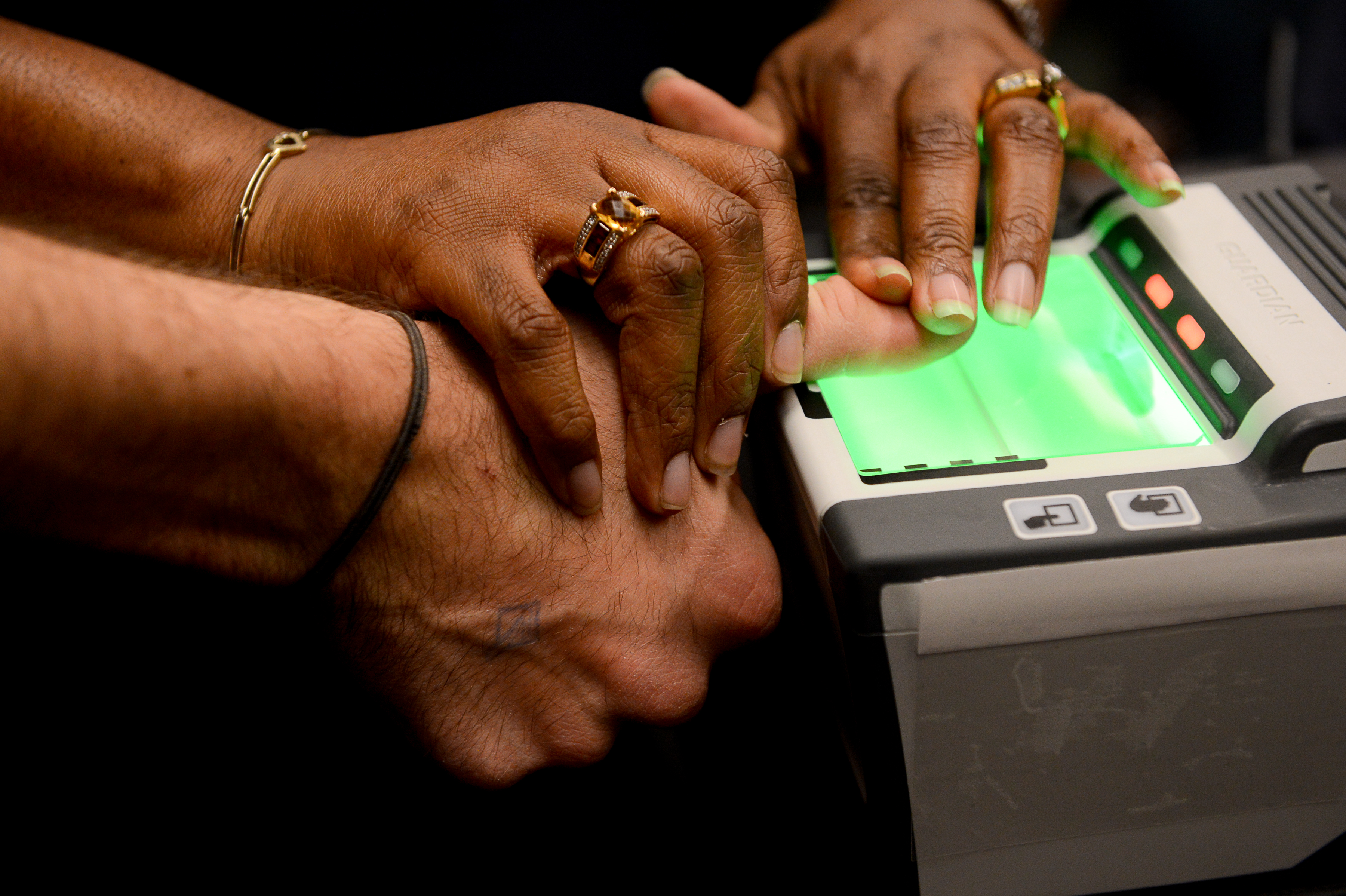 "Some people buy guns because it's their right to buy guns," Mr. Chiapparoli said.
Wayne Graham, 47, of Frederick, Md., said he enrolled in the class so he would have the license for a possible future gun purchase.
"It's an important class," he said. "We talked about safety and learned about the law. It was very interesting."
Mr. Deleon, 23, of Wheaton, said he took the course for his future career.
"I'm looking to advance in asset protection," he said. "Everything is pretty straight forward in the class."
Jan Montgomery completed the course with her 82-year-old mother.
"She lives by herself," Ms. Montgomery said. "We took the course because she wants a handgun. If we are going to buy a gun, we'll be ready."
Click to Read More and View Comments
Click to Hide
---
---