Photos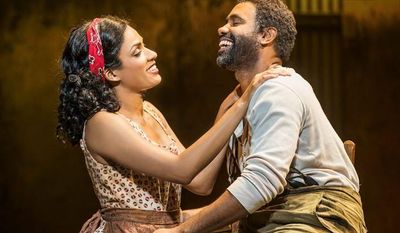 Quotations
"There's so much to look at onstage, you are being guided with lights and the narrative to look at certain characters, you get so many layers that have so much meaning on which the narrative rests," she said. "There is stuff every night that happens away from the microphone, and I hear it and it changes my show. You have to be that much better to absorb the blows and caresses as they come, that millisecond in the beat where she's supposed to touch your arm lightly but it becomes an embrace. Every night there's something magical like that."
THEATER REVIEW: 'Porgy and Bess' →
"It's an honor to be bringing Gershwin's work alive during this current wave of history," said Alicia Hall Moran, who plays the title role of Bess. "It's a victory for D.C., saying that it's okay to be able to retell this history that once we were segregated. It's brave of D.C. Every five years another 100,000 people in the population forget we were once segregated. In the theory of Nelson Mandela, you re-educate people, you face up to it, you heal. I expect it to be part of a healing process. It gives people a chance to relive the questions and heal in real time."