Photos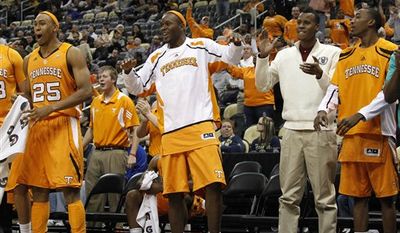 Quotations
"He's the same, enthusiastic coach. Nothing's changed," redshirt junior guard Cameron Tatum said. "He'll still be out there yelling and stomping his feet. (The coaches) have done a great job with handling it, so it appears nothing has changed and everybody can just go about their day and just play ball and not have that cloud over their head."
Vols focusing on practice, not NCAA investigation →
"Coach Jones, he has different methods to getting to you," junior guard Cameron Tatum said. "He can raise his voice and be a little intense as well, but he's the more calm, cerebral type of coach that tries to pick your brain a little bit to get you to play better. Sometimes those methods work, depending on who the player is. It's going to be interesting to see how we respond to that."