Photos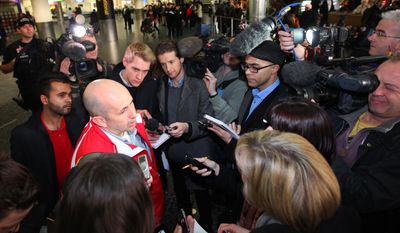 Quotations
"I lost all my luggage. It's literally bodies climbing over bodies to get to the door," Mr. Black said. "I was on my knees at one stage and so was my colleague, and it was actually one of the Libyan police who grabbed my arm when I showed him my passport and pulled me in, and I pulled the other guy in as well."
4,500 Chinese escape Libya by sea; Americans stuck →
"The airport is just a zoo. There's about 10,000 people there, all trying to get out," Ewan Black of Great Britain told the BBC as he got off a flight at London's Gatwick Airport. "It's just absolutely manic; basically, it's uncontrolled."