Photos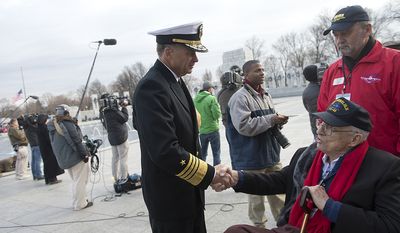 Quotations
"I worry that if we turn this over to somebody else, whether it is a civilian DA or a nonentity in the military, that they are going to make the same kind of decisions that those civilian prosecutors made," said Winnefeld, who was the nation's second highest ranking military officer at the time. "I worry that we are going to have fewer prosecutions if we take it outside the chain of command."
Pentagon misled lawmakers on military sexual assault cases →
Adm. James Winnefeld, vice chairman of the Joint Chiefs of Staff, told a Washington think tank that the North Koreans "have not gotten as far as their clever video editors and spinmeisters would have us believe."
U.S.: North Korea 'many years' from developing submarine missile →