Photos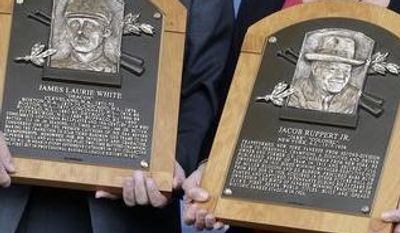 Quotations
"This is a day we will all remember for the rest of our lives," said Jerry Watkins, great grandson of White and one of nearly 50 family members in attendance. "In my mind, the only way it could have been better is if my dad were here to see it. My dad loved his grandfather, he loved baseball, and he loved the Chicago Cubs. It was his lifelong dream to see his grandfather enshrined in the Baseball Hall of Fame, and it was his lifelong dream to see the Cubs play in the World Series. Dad, today you got one of them."
Baseball Hall of Fame induction brings pride to families →
"In my heart, I never believed this day would come," Watkins said. "If my grandfather were alive today, he would say thank you to the Hall of Fame for this great honor, and he would say thank you to each of you for being here. So, on his behalf I say thank you."