Related Stories
No Stories Found
Photos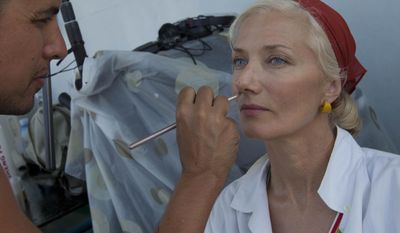 Quotations
Every day there's a new drama," said English actor Joely Richardson ("Nip/Tuck," ''The Girl With the Dragon Tattoo"), who plays Hemingway's fourth wife, Mary. "It's been so nutty. But you know what? It's up there with my best experiences. It's been fantastic."
Hemingway pic a rare Hollywood moment in Cuba →
"The clothes are No. 1, but she's very family oriented, very kind and very, very inspired," Richardson said moments before Temperley's catwalk show started Sunday. "When you go into her shop, she has a few pieces that are just there for inspiration. I love that mentality. I'm just starting to wear some of her pieces, and when I work with someone, I really like it if they're nice as well."