Photos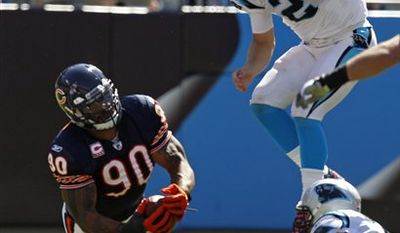 Quotations
"With Lance, that guy can pop the ball out at any time," linebacker Pisa Tinoisamoa said. "He can get an interception at any time, a big sack, cause a turnover or cause a fumble. So that kind of hurt. And he brings an energy. Lance loves the game with a passion. And so when he's out there, it doesn't matter what the score is, he'll always find something to kind of lift the team up. We kind of missed some of that."
Bears' Briggs criticizes league's stance on hits →
Linebacker Pisa Tinoisamoa said he feels sympathy for Cutler, who missed most of the second half when Chicago rallied for two touchdowns behind backup Caleb Hanie.