Photos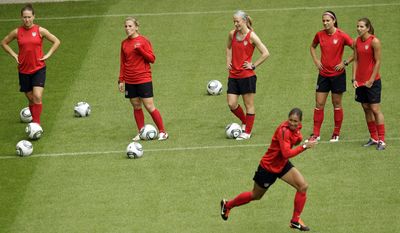 Quotations
"I feel like it's the right time and I'm feeling really comfortable about the end of my career," Boxx said. "After winning the World Cup, I don't feel like there is anything left to accomplish and I'm proud I was able to make a final comeback and help the team. I'm just really excited to be on the field one more time with my teammates and play in front of my family."
Boxx, Holiday, Chalupny set for international finales →
'OK, is she going to fit into the starting lineup?'" midfielder Shannon Boxx said. "We just feel on the same page now. Two days ago, her game was amazing. She played so great for us, defensively and offensively. I'm glad she was able to do it the way she needed to do it. We need her on this team."