Photos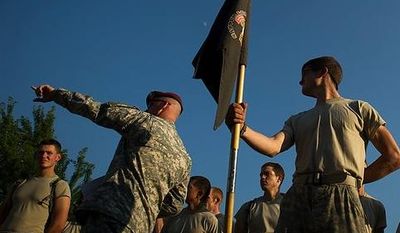 Quotations
"A lot of them will sleepwalk. A lot of them will hallucinate, due to the lack of sleep and the lack of food. But it's designed so that the leadership and the students still have to make decisions even though they're extremely tired and extremely hungry," said chief instructor Sgt. 1st Class Troy Winters.
Making a tough 'go' as sappers →
"Most of the students have poison ivy. Poison ivy is really bad here in Missouri because the vegetation is so thick," he said, adding that ticks and mosquitoes also are plentiful. "There's an abundance of snakes, but they usually don't mess with you if you don't mess with them."