The U.S. Embassy in Cairo released the following statement hours before protesters stormed the embassy building:(bolding is mine)
"The Embassy of the United States in Cairo condemns the continuing efforts by misguided individuals to hurt the religious feelings of Muslims – as we condemn efforts to offend believers of all religions. Today, the 11th anniversary of the September 11, 2001 terrorist attacks on the United States, Americans are honoring our patriots and those who serve our nation as the fitting response to the enemies of democracy. Respect for religious beliefs is a cornerstone of American democracy. We firmly reject the actions by those who abuse the universal right of free speech to hurt the religious beliefs of others."
In a tweet from the embassy that was later deleted, the U.S. embassy in Cairo tweeted:
"We consistently stand up for Muslims around the world and talk abt how Islam is a wonderful religion."
Reuters is reporting Egyptian protesters are scaling the walls of the U.S. Embassy in Cairo and pulled down the American flag on Tuesday over a film being produced in the U.S. that "insulted the Prophet Mohammed:
In place of the U.S. flag, the protesters tried to raise a black flag with the words "There is no God but Allah and Mohammad is his messenger", a Reuters reporter said.

Once the U.S. flag was hauled down, protesters tore it up, with some showing off small pieces to television cameras. Then others burned remains.

"This movie must be banned immediately and an apology should be made … This is a disgrace," said 19-year-old, Ismail Mahmoud, a member of the so-called "ultras" soccer supporters who played a big role in the uprising that brought down Hosni Mubarak last year.

Many Muslims consider any depiction of the Prophet to be offensive.

Mahmoud called on President Mohamed Mursi, Egypt's first civilian president and an Islamist, to take action. Many others were supporters of Islamist groups.

About 20 people stood on top of the embassy wall in central Cairo, where about 2,000 protesters had gathered.

"There is no god but Allah, Mohammad is Allah's messenger. We will sacrifice ourselves for you, Allah's messenger," they chanted, with many waving religious flags.
The U.S. Embassy in Cairo engaged in a Twitter debate, which led to its statement on Islam, with an individual on with the handle @Mbaha2 which went like this: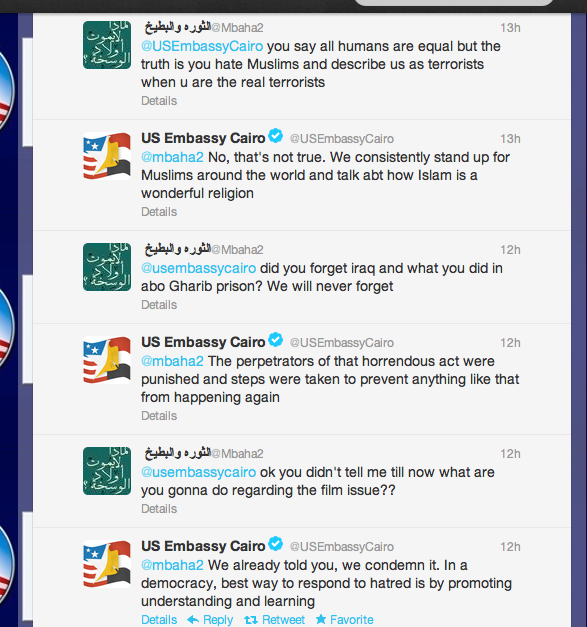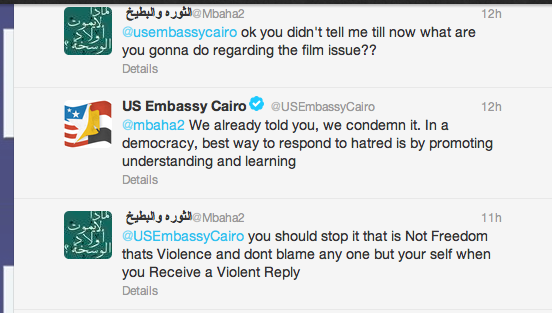 The U.S. Embassy in Cairo also tweeted out earlier:
"We condemn the continuing efforts by misguided individuals to hurt the religious feelings of Muslims."