The advent of high-definition and flat-screen technology, combined with Hollywood's penchant for delivering a wide variety of stories every year, makes owning a home entertainment center mandatory for those seeking an escape to fantastical universes.
Here's a selection of DVD or Blu-ray gift choices for the movie and television fan in the family this holiday season.
Classic TV on disc
What is it? Some of television's best moments compiled in DVD or Blu-ray format
Price: $99.98 to $239.95
Gift group: Those who worship the mighty flat screen
Santa's hottest picks:
* Tonight: 4 Decades From The Tonight Show Starring Johnny Carson (Respond2 Entertainment, $199.99) — Anyone familiar with stars such as Peter Falk, Doris Day, Richard Pryor, Michael Landon and Bob Uecker will appreciate this salute to the King of Late Night in this 15-disc DVD set. Featuring 56 full episodes from Carson's unprecedented talk-show run from the 1960s to 1990s, it's an unforgettable walk down memory lane loaded with laughs and song. Viewers get an avalanche of vintage Carson moments. For example, I defy anyone not to laugh at the lunacy that broke out among Dom DeLuise, Burt Reynolds and Art Carney on Sept. 26, 1974. The set also includes another 100 minutes of vintage clips from shows of the 1960s and an almost-two-hour interview with the stars who loved Johnny.
* The Pacific (HBO Home Video, $99.98) — Tom Hanks and Steven Spielberg team up again, this time to produce a docudrama tied to the American campaign to defeat Japan in World War II. Specifically, they focus on the U.S. Marines and their island-hopping firefights in the Pacific theater against an enemy that refused to quit. The 10-part series arrives in a six-disc Blu-ray set and brutally explores the horrors of war and its effects on the Marines. A collection of interactives that can act as a wonderful educational tool is included.
* The Six Million Dollar Man: The Complete Collection (Time Life, $239.95) — Steve Austin — the former astronaut of 1970s television fame, not the wrestler — got some help from superpowered limbs and a high-tech eye on his way to becoming a pop-culture phenomenon. The entire 100-episode run of the hit ABC series starring Lee Majors is available in a 40-disc DVD set. The viewing also comes with six made-for-TV movies (yes, the three reunion shows are included) plus 17 hours of behind-the-scenes extras, including six optional commentary tracks, interviews with Mr. Majors and Lindsay "Bionic Woman" Wagner, and a celebration of the show's guest stars, featuring Farrah Fawcett-Majors, Kim Basinger and Andre the Giant (Bigfoot to "Six Million Dollar Man" fans). I'll also mention a package that, when opened, plays the beginning theme narration from the show.
* Great Detectives Anthology (A&E Home Video, $149.95) — Legendary literary sleuths Sherlock Holmes, Jane Marple and Hercule Poirot star in this 12-disc set culling some of their best mysteries aired on ITV and BBC television. Specifically, viewers get 18 classic capers starring Peter Cushing as Sir Arthur Conan Doyle's legend, Joan Hickson as the intelligent spinster and David Suchet as the diminutive detective — the latter two from the mind of Agatha Christie — along with extras such as a documentary on Holmes and text-based indices to all the Poirot and Marple stories. Among the stories, fans will love Mr. Cushing's take on "The Hound of the Baskervilles" and enjoy Mr. Suchet in a faithful adaptation of "Death on the Nile."
* The Tudors: The Complete Series (Paramount Home Entertainment, not rated, $129.98) — Showtime's original television series based on the violent and ribald life of King Henry VIII arrives in a 16-disc DVD set containing all 38 episodes. Jonathan Rhys-Meyers stars as the English monarch who had a large libido and a short temper with his wives in a time when beheading was easier than marriage counseling. Extras include historical featurettes on the Tudor Rose, Henry's wives, medieval arms, royal etiquette and the downfall of some of the king's closest associates.
Ho-ho home entertainment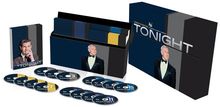 What is it? A sampling of the best movies and television shows reproduced in the DVD or Blu-ray format highlighting the festive season
Price: $19.95 to $49
Gift group: Family members glued to their LCD or plasma televisions in a desperate search for the holiday spirit
Santa's hottest picks:
* White Christmas (Paramount Home Entertainment, $29.99) — This 1954 Vistavision blockbuster makes its debut in the high-definition format, celebrating some wonderful songs by Irving Berlin. The holiday classic stars Bing Crosby, Danny Kaye, Rosemary Clooney and Vera-Ellen in a story that finds the quartet helping a retired general pull his ski lodge out of financial trouble. Besides great dance numbers and awesome versions of "White Christmas" and "Sisters," bonus stuff includes a tribute to the main actors and an optional commentary track from Rosemary Clooney.
* The Year Without a Santa Claus (Warner Home Video, $24.98) — The chance to see Heat Miser and Snow Miser in high definition should persuade Blu-ray adopters to grab this Rankin-and-Bass stop-motion-animation classic. Mickey Rooney voices Santa, who loses the Christmas spirit. Only a couple of elves can help him out of his funk. Extras include full versions of "Rudolph's Shiny New Year" and "Nestor the Long-Eared Christmas Donkey" along with a tribute to the masters of Animagic.
* Elf: Ultimate Collector's Edition (New Line Home Entertainment, rated PG, $49) — Comedian Will Ferrell's mischievous portrayal of the adopted elf Buddy hits the right childlike chord and makes this 2003 movie a holiday classic worth having in the high-definition format. The Blu-ray also includes plenty of extras, including almost 90 minutes of behind-the-scenes featurettes, two optional commentary tracks and Elf karaoke. Especially themed for the season, the disc arrives in a colorful tin package along with Elf gift tags, a five-track soundtrack sampler of holiday classics, a 14-inch Elf stocking and a 5-by-7-inch magnetic picture frame.
* A Christmas Carol (Walt Disney Home Entertainment, rated PG, $39.99) — Comedian Jim Carrey, with the help of motion-capture technology, becomes Ebenezer Scrooge in this 96-minute computer-animated version of Charles Dickens' novel. This faithful adaptation from Robert Zemeckis, co-starring Gary Oldman and some dazzling locations, greets viewers in a story highlighted by some scary moments (silhouetted Death, skeletons and glowing-eyed horses jump from the screen) that should cause selfish kids to see the light. Extras include an optional commentary track by Mr. Zemeckis that can accompany a picture-in-picture comparison of motion capture to the film, plus a virtual Advent calendar.
* Surviving the Holidays with Lewis Black (A&E Home Video, $19.95) — Originally broadcast on the History Channel, this humorous, slightly educational 94-minute expose of the stressful days between Thanksgiving and New Year's Day (referred to as "the monthlong festival of consumption") stars the "curmudgeon of comedy," Lewis Black, with vignettes from his band of merry men, including Richard Belzer, Shelley Berman, Craig Ferguson, David Alan Grier, Larry Miller, Judy Love, Bob Saget and Rip Taylor. Scrooges in the family will chuckle, while those mired in the holiday spirit will appreciate the insightful observational respite before continuing their shopping frenzy.
Cinema for the ages
What is it? Collections of DVDs and Blu-ray discs highlighting some of Hollywood's greatest films
Price: $34.98 to $139.99
Gift group: Viewers who call their living room a boutique cinema house
Santa's hottest picks:
* Harry Potter and the Prisoner of Azkaban: Ultimate Edition and Harry Potter and the Goblet of Fire: Ultimate Edition (Warner Home Video, rated PG, $49.99 each) — No better a gift can be had by a Blu-ray-owning muggle enamored with J.K. Rowling's boy wizard's on-screen exploits. These collector-style sets of the third and fourth films in the franchise are packaged in thick, embossed booklike containers and are accompanied by a second Blu-ray disc offering a new chapter to the megadocumentary "Creating the World of Harry Potter." A DVD contains more featurettes and interactive games and resources. Also, the set includes a full-color hardcover art book averaging 44 pages tied to the documentary chapter (either "Creatures" or "Sound and Music") and a couple of tarot cards featuring characters from the live-action Potter universe.
* Back to the Future (Universal Home Video, $79.98) — Relive the 1980s, 1950s, 1880s and 2010s in this great trilogy of films featuring the time-traveling exploits of Marty McFly and eccentric scientist Doc Brown. Director Robert Zemeckis keeps the roller coaster of pop references twisting while the high-definition format offers stunning remastered visuals. Each of the three Blu-ray discs is packed with extras, including a new documentary on the films; user-controlled (U-Control) functionality, which offers on-screen storyboard comparisons; a trivia track; and information on how key scenes relate throughout the trilogy.
* Alien Anthology (20th Century Fox Home Entertainment, $139.99) — One of the galaxy's nastiest sci-fi horror creatures gets its own high-definition tribute in a six-disc set ready to terrify. Not only do viewers get all four movies starring the acid-spitting Xenomorphs — "Alien," "Aliens," "Alien 3" and "Alien Resurrection" (in both original and special-edition versions) — but they also receive more than 60 hours of special features. The extras clearly co-star here as the movie-production minutia and mythos of the franchise are so thoroughly dissected in interactives, interviews, photos and documentaries that fans will drool a viscous gooey substance over them. Remember, in the confines of an entertainment room blasting DTS-HD Master Audio surround sound, "No one can hear you scream."
* Apocalypse Now: Full Disclosure (Lionsgate Home Entertainment, rated R, $59.99)— If anyone in the household can fill in the blank, "I love the smell of in the morning," this celebration of one of the best war films of all time has "gift" written all over it. Francis Ford Coppola's Academy Award-winning masterpiece arrives in a three-disc Blu-ray set offering fans the original 1979 theatrical release of the film and the recut, extended "Apocalypse Now Redux" version (both in the original 2:35:1 aspect ratio) along with more than nine hours of extras. Among the bonus goodies, the third disc holds the acclaimed 96-minute documentary "Hearts of Darkness: A Filmmaker's Apocalypse," which deconstructs the nightmare of the filmmaking process.
* Avatar: Extended Collector's Edition (20th Century Fox Home Entertainment, $34.98) — Director James Cameron's titanic box-office blockbuster is celebrated in a Blu-ray set that features three cuts of the movie, which made more than $2.7 billion. Three discs offer the original theatrical release, a special-edition rerelease (with an optional family audio track that removes all objectionable language) and a new collector's extended cut loaded with 16 more minutes, including an alternate opening Earth scene. Add in 45 minutes of deleted scenes, interactive scene deconstructions, a feature-length documentary, production shorts and a Pandorapedia, and it's an exhausting overdose of Na'vi-mania.
* Beauty and the Beast: Diamond Edition (Walt Disney Home Entertainment, rated G, $39.99) — The first animated film ever nominated for a best-picture Academy Award has been digitally restored and delivered in high definition to dazzle viewers with its musical charm and cartoon moments. Owners get three versions of the film, including an early storyboarded version with rough animation, and loads of extras mixing a singalong mode, a massive (more than 2 hours) branching documentary and an assortment of interactive games. It may be "a tale as old as time," but it has never looked or sounded better.