Afghan efforts to eradicate opium-yielding poppy crops that fuel the Taliban-led insurgency have stalled as a result of a lack of incentives and adequate security for farmers who may be inclined to cut ties with the Taliban, according to Afghan and Western officials.
Money from the illicit drug trade is used to finance insurgencies within and outside Afghanistan.
"Eradication has been stalled because of insecurity, a lack of alternative assistance and the fact that it is counterproductive," a senior Afghan official told The Washington Times.
"If you have not delivered alternative assistance … you are creating a situation which can be exploited by the Taliban," the official said, speaking on the condition of anonymity. "We should be careful not to eradicate in such a way that would create opportunities for the enemy."
U.N. drug czar Antonio Maria Costa told NATO that militants in Afghanistan were storing thousands of tons of heroin and using the caches as "savings accounts" to finance the insurgency, according to a confidential 2009 U.S. cable leaked by the WikiLeaks website.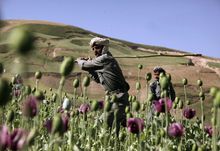 The cable said Mr. Costa thought the "most powerful motivating factors driving farmers away from opium cultivation were effective law enforcement, NATO strikes, and measures by the Afghan government to destroy crops."
Afghan and Western officials say the cultivation of opium across Afghanistan is linked to the presence of the insurgency.
"In Costa's view, counternarcotics operations by NATO and Afghan forces alone or jointly [were] making an impact and causing farmers to think twice," the U.S. cable said.
Mr. Costa is no longer serving as drug czar at the United Nations.
A report by the U.S. Senate Caucus on International Narcotics Control found that the Taliban is linked to the drug trade at every level: from the poppy fields to the heroin-processing laboratories to the transportation and distribution of the narcotic.
"The Taliban has become both a terrorist organization and a drug cartel, ideology and greed being their [principal] motivators," the report said, adding, "United States policymakers need to recognize that the Taliban operates as a drug cartel. … If the U.S. ignores the drug problem, we will fail in Afghanistan."
The U.N. Office on Drugs and Crime (UNODC) concluded in its report that the lack of security in the southern and western parts of Afghanistan had compromised the rule of law and limited counternarcotics interventions, resulting in high opium-cultivation levels.
According to the report, 82 percent of the opium cultivated in 2010 was concentrated in Helmand, Kandahar, Uruzgan, Day Kundi and Zabul provinces of the southern region and 16 percent was concentrated in Farah, Badghis and Nimroz provinces in the western region.
Opium prices have risen sharply as production has declined because of a virulent plant disease that has stricken poppy plants.
An average farm-gate price of dry opium at harvest time was $169 a kilogram (2.2. pounds), a 164 percent increase from 2009, according to the UNODC report.