The intense two-day tryout had come to an end. More than 300 people showed up, hoping to fulfill a life-long dream. But only 12 were left standing; huddled together at midcourt of Verizon Center, still dripping sweat and saying silent prayers.
Only six numbers would be called. Six players would be invited to the Washington Mystics' training camp for their inaugural season. The other six would walk off the court, and most likely say goodbye to their dreams of playing professional basketball in their country.
It's been 13 years since that day, but Christy Winters-Scott recalls every moment, every detail, with perfect clarity and searing emotion. It was, and still is, the defining moment that shaped her life.
"I was No. 305. They told us, 'If we call your number, you're staying in camp. Wes Unseld was calling out the numbers,' recalled Winters-Scott. "They called 298. I was waiting, thinking I had to be next. Then they called 309. I just dropped to my knees. I felt like all the air was just taken out of me.
"I laid it all on the line, but it didn't happen. I was devastated. I'm not sure how I made it home that day."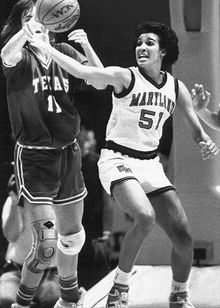 Winters-Scott, 6-foot-2 in her stocking feet, was a star basketball player at Maryland who describes herself as a high-post and short-corner shooter with 3-point range, with good maneuverability, rebounding and defensive skills.
She graduated in 1990, but the WNBA didn't exist yet, so Winters-Scott did what all women did who still wanted to play after their college days; she headed overseas.
"I spent a year playing in Italy, and another two years playing in Switzerland," she said. "I stopped playing in 1996, so for two years I didn't play competitively, but I was still working out. When I found out there was going to be a team in D.C., I knew I was going to try out for it and give myself a chance. I didn't want to have any regrets."
But after missing out on one dream, Winters-Scott set her sights on another: a broadcasting career. She was working on cable access television doing the Roundball Report and, in ironic fashion, found herself standing in the Verizon Center tunnel for the Mystics' inaugural game.
"I was excited for the moment, but I felt sicker than I had in my whole life. I still had raw emotion about not being on the team," Winters-Scott said. "I was still trying to pull it together, and I turned around and saw [ESPN commentator] Mike Wilbon. He said, 'Christy, can I talk to you about this moment.' He would later write that I was misty-eyed, but I don't think he knew why. No one did."
A consummate professional, she gave Wilbon an interview.
"I had to talk to him about how great this opportunity was for these young women to get to play in the United States and in D.C. But after I answered his questions, I kind of got myself together. Whatever I told him, I was saying it to myself. I think that's when the healing process actually started for me."
In addition to her cable access work, Winters-Scott also spent the next several years coaching basketball. Her stops included George Mason, Maryland and Georgetown. But after the birth of her third child, Winters-Scott grew weary of the travel and wanted to be home with her family.
"I know he doesn't remember it, but I told my husband that the perfect thing would be to work at South Lakes [her high school alma mater] and to work with the Mystics," she said.
Deeply spiritual and grounded, Winters-Scott believes her wish was heard as a prayer, one that was soon answered.