Cyberwarfare advances
The commander of the new U.S. Cyber Command told Congress on Wednesday that threats of cyberwar continue to grow.
"The cyberthreat continues to mature, posing dangers that far exceed the 2008 breach of our classified systems," Army Gen. Keith Alexander said in testimony before the House Armed Services subcommittee on emerging threats.
"We are collectively vulnerable to an array of threats ranging from network instability to criminal and terrorist activities to state-sponsored capabilities and actions that are progressing from exploitation to disruption to destruction."
So far, U.S. networks have not suffered "irreparable harm in cyberspace" from the threats, but Gen. Alexander noted, "We must be prepared to counter this evolving threat."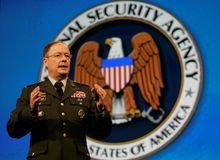 Gen. Alexander noted that no nation has taken credit for attacks, as in the apparent Russian strikes on Estonian and Georgian networks.
Elsewhere, foreign governments blocked Internet access "to suppress and disrupt even peaceful protests by their own citizens," he said.
"In addition, we believe that state actors have developed cyberweapons to cripple infrastructure targets in ways tantamount to kinetic assaults. Some of these weapons could potentially destroy hardware as well as data and software," the four-star general said.
Terrorists and cybercriminals also are a growing threat, he said.
The commander warned that U.S. networks remain vulnerable.
"In sum, our adversaries in cyberspace are highly capable. Our defenses - across dot-mil and the defense industrial base - are not," he said.
Gen. Alexander also stated clearly that his command is prepared to use offensive cyberwarfare to defend freedom of action in cyberspace and deny adversaries its use.
"We are prepared, when directed and in full compliance with applicable laws, including the Constitution, federal statutes and the Law of Armed Conflict, to respond when we or our allies are threatened or subjected to the use of force inthe cyberspace," he said.
"This is not a hypothetical danger. We have seen adversaries use the Internet to harm U.S. forces and coalition partners."
He warned that the command is working to defend against a "Cyber 9/11" attack.