Two Air Force aviators have been rescued and returned to their command after their fighter jet crashed late Monday during a mission to enforce a no-fly zone over Libya, U.S. military officials said.

The F-15E Strike Eagle fighter jet was not shot down but experienced "equipment malfunction" before it crashed, the Defense Department said.
"Both the pilots ejected and are safe," Navy Lt. Cmdr. Karin Burzynski, a spokeswoman for U.S. Africa Command in Stuttgart, Germany, told The Washington Times.

Another spokesman, Air Force Maj. Joel Harper, said the two airmen are safe and had minor injuries. He said their identities were being withheld until their families had been informed.

Other reports said the men had been rescued by rebels from the crash site, near Benghazi.

The aircraft, based out of Royal Air Force Lakenheath in Britain, was flying out of Aviano Air Base in Italy in support of Operation Odyssey Dawn at the time of the crash.

U.S. Africa Command said the cause of the crash is under investigation.
On Monday, the U.S.-led coaltion pounded targets in Libya, extending the U.N.-mandated no-fly zone around the rebel-held town of Benghazi, as Pentagon officials insisted that they would soon hand over command of the operation to allies.
Meanwhile, an Air Force F-15 Strike Eagle jet crashed in Libya Tuesday after an equipment malfunction, according to the Associated Press. Both crew members ejected and are safe, military officials told AP.
But several Libyans told The Washington Times that the coalition's focus on the capital, Tripoli, and Benghazi is coming at the cost of smaller cities where forces loyal to Libyan leader Col. Moammar Gadhafi have created siegelike conditions for several days.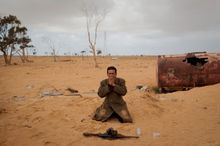 Coalition strikes hit a command center in the Tripoli headquarters compound of Col. Gadhafi, U.S. military officials said Monday, insisting that the longtime leader is not a target. Al Jazeera news channel reported Monday that coalition forces struck radar installations at two air-defense bases belonging to Col. Gadhafi's forces in eastern Libya. The two bases are east of the rebels' stronghold of Benghazi, the channel said.
"I don't know much about the location of the Libyan leader, nor have we expended any military effort in that regard," said Army Gen. Carter Ham, chief of the recently established U.S. Africa Command, which is leading the effort in its first major operation.
He briefed Pentagon reporters via satellite from Stuttgart, Germany, site of the command's headquarters.
In a phone interview with The Times from Cairo, Mourad Hamaima, a former Libyan Foreign Ministry official, said coalition forces need to take urgent action to protect populations in Misurata, Ajdabiya and Zintan.
"Since there are now no airstrikes [by the regime] against the pro-democracy forces, they have a level playing field. But some population centers, especially in Misurata, Zintan and Tripoli need immediate help because they are under constant attack," Mr. Hamaima said.
Over the weekend, differences emerged between the allies about the ultimate aim of the military campaign. French officials say the goal is to drive Col. Gadhafi from power, and U.S. leaders insist that the mission is to protect civilians.
"Our mandate, again, our mission, is to protect the civilians from attack by the regime ground forces," Gen. Ham repeated Monday. "Our mission is not to support any opposition forces."
He added that the rebels in Benghazi and elsewhere include many civilians, who are eligible to be protected by international forces.
Libyan civilians in Misurata, about 130 miles east of Tripoli, appealed for help from the coalition. In interviews with the Times, they reported fierce fighting and said pro-Gadhafi fighters were holding civilians against their will to be used as human shields.
"Gadhafi's forces are hitting us from east and west. The coalition needs to strike to allow us some breathing room," said one resident, who asked not to be identified out of fear of retaliation.