A deadly spring offensive launched by the Taliban in Afghanistan has put the spotlight on the countrys fledgling army, which Western officials and analysts say is being undermined by corruption, the lack of rule of law and a weak government in Kabul.
The army and police also have had to contend with high attrition rates and low levels of literacy among recruits.
"To be honest, it is weak Afghan government capacity, corruption, and a lack of rule of law that undermines any security handover and gains more than illiteracy and lack of equipment," said a U.S. official, who spoke on the condition of anonymity citing the sensitive nature of the subject.
President Obama has said he will start withdrawing U.S. troops from Afghanistan in July with the aim of ending the U.S. combat mission and handing over security responsibility to the Afghan government by 2014.
However, analysts and Afghan officials doubt the Afghan security forces will be ready on time.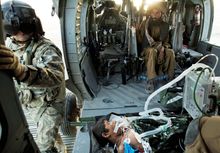 The death of al Qaeda leader Osama bin Laden in a U.S. commando operation in Pakistan last week has prompted calls from some members of Congress for a quicker withdrawal of U.S. troops from Afghanistan.
Joshua Foust, a fellow at the American Security Project and former Defense Intelligence Agency analyst, said a large number of Afghan National Army (ANA) units lack the kind of leadership that would help them be effective by 2014.
"With the number of ANA divisions that have been able to become effective in the past three years or so, we have shown we are capable of fixing it, but I dont think we are capable of fixing it fast enough by 2014," he said.
An Afghan official, who spoke on background, was similarly pessimistic.
"We're not reluctant to take over the defense of our nation, but you cannot hope that by 2014 you will have an army in place," he said.
A U.S. Government Accountability Office (GAO) report in January cautioned that the high rate of attrition could have a negative impact on the Afghan armys ability to meet its goal of 171,600 personnel by October.
Afghan President Hamid Karzai has insisted that Afghan forces will take the security lead from the NATO-led coalition in some provinces in July.
Afghanistans ambassador in Washington, Eklil Hakimi, also expressed confidence that the handover will proceed as planned, based on conditions on the ground.
The Afghan army is slated to take control of areas with low levels of insurgency, while the coalition forces will continue to have the primary responsibility of fighting the Taliban in its traditional strongholds in the southern and eastern regions of Afghanistan.
Insurgents and criminals in the north and northeast sometimes masquerade as Taliban but are more often criminals involved in drug trafficking and highway robbery. The Taliban heartland is in the south.