Pakistan has cooperated secretly with the U.S. on several war-fighting missions in an odd-couple alliance that also sees factions in Islamabad backing the fiercest American enemy.
The uneasy relationship is being put to the test again, as Pakistan accused NATO on Saturday of unleashing a helicopter strike on a Pakistan army border outpost and said 24 soldiers were killed.
U.S. military personnel who have served in the region tell The Washington Times that Pakistan does far more in secret than either side acknowledges. It wants money from Washington to keep flowing, yet fears a democratic Afghanistan could one day align itself with archenemy India, analysts say.
Pakistan's dual objectives help create this odd alliance.
Last summer, as then-Joint Chiefs Chairman Mike Mullen was castigating Pakistan in public for aiding the al Qaeda-linked Haqqani Network, the CIA was launching Predator drone strikes from Pakistani air bases on suspected militants. The U.S. military has deemed Haqqani its greatest threat, ranking it above the Taliban and al Qaeda.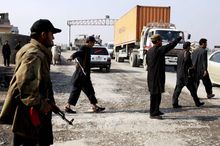 In April, as the Obama administration was keeping Islamabad in the dark on the Osama bin Laden raid for fear of a leak, the U.S. Navy routinely flew aircraft from carriers over the country's airspace, along designated "highways," to hit targets in Afghanistan.
James Russell, an instructor at the Naval Postgraduate School in Monterey, Calif., said Pakistan needs U.S. cash to maintain a large army and to deter India.
"The Pakistani military has a longstanding relationship with the United States," he said. "We have been a principal provider of military equipment, training and money for many years.
"Pakistan has needed our help to maintain its army, which defends the country from its principal adversary — India. Like many of the countries in the region, the military is the most important, national-level institution that helps hold the country together."
U.S. aid not only forces Pakistan to help in the war but also acts as an investment to protect the country from radical Islam, a development that would be worse for Washington than a balky Islamabad.
"We fear that that country will fall apart without a strong military, creating another haven for Islamic extremist terrorists in a country that has nuclear weapons," Mr. Russell said.
Pakistan has helped in other ways.
In 2009 and early 2010, as Pakistani intelligence officials were harassing U.S. embassy personnel, according to a State Department cable released by the anti-secrecy website WikiLeaks, the government's guards were convoying critical supplies for NATO troops.
It was from Pakistani soil and airspace that the U.S. launched the initial attack on Taliban-held Afghanistan in the fall of 2001, according to participants.
The cover story was that commandos struck from a carrier in the Arabian Sea. In fact, they staged in bases inside Pakistan, joining anti-Taliban Afghans — such as the future president, Hamid Karzai — then swooping across the border via helicopters.