Qatar's support for a former jihadist leader who is now the top rebel commander in Tripoli, Libya, is causing unease among Libyan rebels who worry that the revolution that ended Col. Moammar Gadhafi's four-decade rule is being hijacked by Islamists.
Rebel sources say that Qatar has provided shipments of weapons to Abdel Hakim Belhaj, the rebels' top military commander in Tripoli. He founded the now-disbanded Libyan Islamic Fighting Group (LIFG), which was listed as a foreign terrorist group by the State Department.
Multiple rebel sources who spoke to The Washington Times on background said containers packed with weapons have been delivered to Mr. Belhaj in recent weeks. Some of these shipments have originated in Qatar.
Earlier this month, rebels from the western city of Zintan intercepted a container that on inspection was found to be packed with weapons. Mr. Belhaj's supporters earlier had insisted it contained food and milk.
"We are very sorry the Qataris have taken the decision to support Belhaj's brigade. This will backfire on our Qatari friends," said Mohamed Benrasali, a rebel official in Tripoli.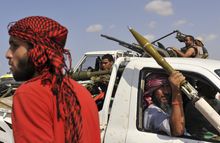 "It is because of [Belhaj's] background that everyone is suspicious," he added.
The Qatari Embassy in Washington did not respond to calls or email requesting comment.
In 2004, Mr. Belhaj was thought to have links to al Qaeda and was arrested by the CIA in Thailand. He was handed over to the Gadhafi regime for interrogation and held in Tripoli's notorious Abu Salim prison, where he says he was tortured.
Mr. Belhaj denies that his group had ties to al Qaeda.
But Mr. Belhaj's past is a worry for Mazigh Buzakhar, a Tripoli-based activist who is struggling to win recognition for the minority Amazigh community in Libya's new constitution.
"Instead of legitimizing Mr. Belhaj, Qatar should deal directly with the NTC [National Transitional Council]," he said.
Not everyone is worried about Qatar's actions.
Shahrazad Kablan, who helped set up Libyan TV in Qatar, said she doesn't think Qatari support for Mr. Belhaj will lead to the kingdom putting all its support behind the Islamists.
"Qatar does not share that ideology," she said.
Meanwhile, Republican Sens. John McCain of Arizona, Lindsey Graham of South Carolina, Mark Kirk of Illinois and Marco Rubio of Florida met Thursday with rebel leaders in Tripoli — the highest-profile U.S. delegation to visit Libya since the overthrow of Col. Gadhafi.